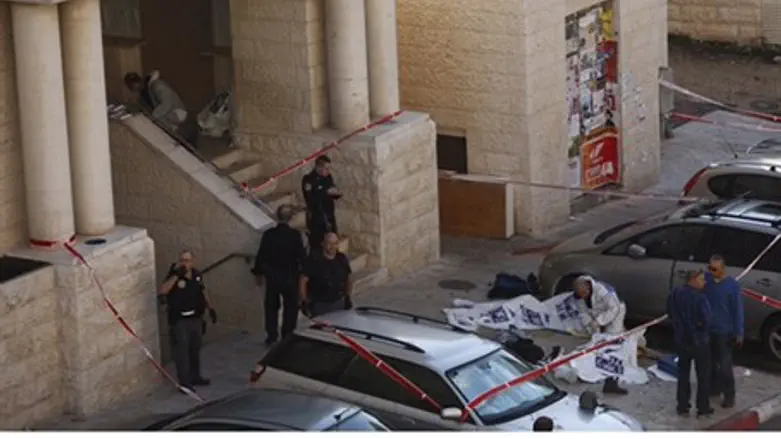 Scene of the Har Nof massacre
Yonatan Sindel/Flash90
Alohab Jabrin, an Arab resident of Umm al-Fahm, was indicted Monday for expressing public support for the murder of five Jews in Har Nof in 2014. According to the indictment, Jabrin praised the deaths of Jews in the terror attack on a Har Nof synagogue last November, and also expressed support and encouragement to Hezbollah terrorists, calling on them to conduct terror attacks in Israel.
Jabrin posted his support notices on his Facebook page, making the postings public. Such postings have been ruled as incitement by Israeli courts.
In Jabrin's case, he did not post support for attacks on Jews just once, but on a regular basis, the indictment said. Between October 2014 and May 2015, the period covered by the indictment, Jabrin posted hundreds of messages calling for the murder of Jews, with many of his on-line contacts approving and "liking" his comments.
In the message about the Har Nof massacre, posted several days after two Arab terrorists entered the Kehillat Bnai Torah Yeshiva Synagogue and murdered five Jews, Jabrin wrote a message that read "good morning to the brave opposition warriors from Al-Quds (Jerusalem), good morning to the forces of Jihad. May you brave ones be blessed for their actions" in killing five Jews.
Prosecutors have asked the court to detain Jabrin until the end of his trial. Investigators said that they were planning to track down some of Jabrin's Facebook friends who praised his incitement, and bring charges against them as well.