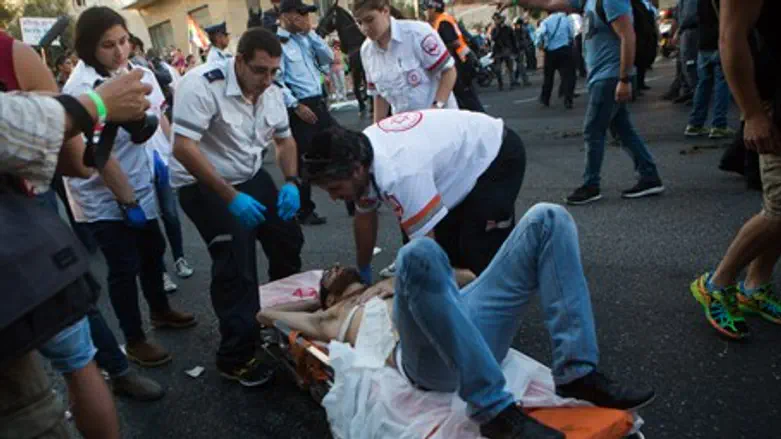 Paramedics treat victims of Jerusalem gay parade stabbing
Miriam Alster/Flash 90
Bentzi Gopshtain, director of the Lehava anti-assimilation organization, responded on Sunday to Opposition chairperson MK Yitzhak Herzog's calls the day before to brand his group a "terrorist organization" following the lethal stabbing spree by a crazed zealot at the "gay pride" parade in Jerusalem.
Speaking to Arutz Sheva, Gopshtain explained, "we at the Lehava organization came to protest legally and democratically against the abominable parade that takes place in Jerusalem, and it's a shame that many others didn't come with us and thereby prevent the parade."
Jewish law strictly forbids homosexuality, and therefore the decision in 2002 to start an annual gay pride parade in the largely religious city of Jerusalem has been the source of heated controversy. A massive gay parade in largely-secular Tel Aviv has been held since the 1990s, with many arguing the Jerusalem parade is an unnecessary and dangerous provocation.
Gopshtain strongly condemned the murder of a young female activist who took part in the parade, who was one of six wounded by haredi extremist Yishai Shlissel. Just three weeks prior, Shlissel was released from jail for a nearly identical stabbing at the parade in 2005.
"Of course we oppose and condemn what Yishai Shlissel did and his murder of the young woman. We are very sad about what happened," emphasized the Lehava head.
According to Gopshtain, the solution to the situation is very far from Herzog's proposal that Lehava be held on trial, for as Gopshtain noted, his group had no connection to the murder whatsoever.
"We stood (in protest) in a legal fashion," he said. "The problem is the police, who should have known what he (Shlissel) was going to do and should have stopped him."
"I hope that next time they won't hold a parade like this and won't cause a provocation, and then there will be no need to deal with acts like these."
Noting on the crackdown against his organization, he said, "when I was at Lehava's legal protest, there were 200 police officers around us who came to apparently make sure we didn't do anything, but Yishai Shlissel who said 'I'm going to murder' - no one looked for."
"Those who are guilty here are the police, and they have to answer for it."
Police conducted a violent arrest of a rabbi's wife in Jerusalem they suspected may have known Shlissel, wounding her and sending her to the hospital, in a shocking act her lawyer described as an attempt to cover up the police snafu with the stabber.