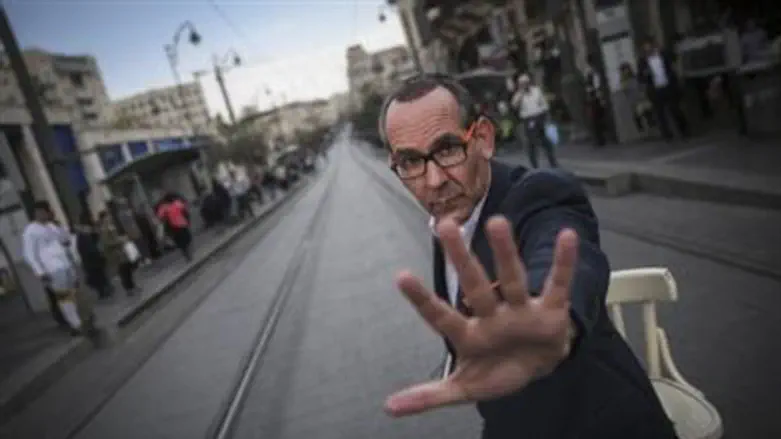 Yishai Lapidot
Nati Shohat, Flash 90
Haredi singer and musician Yishai Lapidot is extremely thankful Sunday – after he narrowly escaped being "lynched" by Arabs in Jerusalem  Saturday night when he made a wrong turn into a large mob of Arab youths who were about to attack his vehicle.
The reason for Lapidot's wrong turn? A "bad route" - suggested by navigation app Waze.
Lapidot and a companion were on their way back to Jerusalem after spending Shabbat at the Dead Sea. Putting his destination coordinates into Waze, the singer was provided with a route to a concert he was scheduled to give in the Old City of Jerusalem later that night.
While most Israelis and tourists relate to the "Old City as the area outside the Jaffa Gate, which faces western Jerusalem, Waze apparently takes the term literally – and literally sent Lapidot into the Old City, where he found himself driving through the narrow streets – into the heart of a large Muslim neighborhood.
Sensing something was wrong, Lapidot began turning around - but was then attacked by dozens of Arab youths, who threw rocks and bottles at his vehicle. Even worse, he said, a group of older men were hurrying to his vehicle, carrying sticks and metal rods – apparently meaning to break into the car and drag him and his passenger out – with who-knows-what results.
Fortunately, Lapidot had almost completely had the car turned around when the attack began – and he managed to get his vehicle into gear and drive out of the neighborhood. Lapidot immediately reported the attack at a nearby police station, before heading back to the center of town.