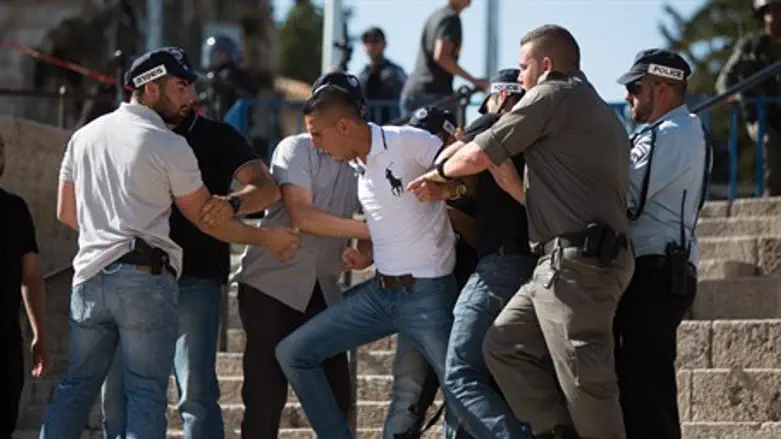 Arrest (file)
Credit: Yonatan Sindel/Flash 90
An Arab resident of Lod in central was caught fabricating an alleged attack by "Jewish extremists" Sunday morning, as tension remain high over the murder of a young Palestinian child in a terror attack Friday.
Imad Abu Sharikh was hospitalized in moderate condition after being severely beaten by a gang of youths Sunday. Abu Sharikh told police he was heading to the mosque when three "right-wing extremists" attacking him, shouting "filthy Arab, expel all the Arabs!"
The report quickly made the rounds in the Israeli and Palestinian media, along with pictures of a bloodied and battered Abu Sharikh. The claim that he had been the victim of a racist attack by Jews was particularly sensitive, coming just two days after the death of Ali Dawabsha in an attack believed to have been carried out by Jewish extremists Friday.
The leader of the Arab Joint List party MK, Ayman Odeh, rushed to issue a condemnation and blame right-wing "incitement."
"Once again an Arab citizen (of Israel) was attacked for nationalistic motives, this time in Lod," Odeh said. "The racist, anti-democratic discourse of ministers and MKs from the Right gives a green light for thugs."
But while Abu Sharikh's wounds were indeed real, his story quickly proved to have been fabricated
Police soon arrested the three suspects - all of whom were Arab residents of the city.
As his version of events continued to unravel, police say it became clear the assault - which really did take place - was in fact the result of a family feud.
CCTV footage captured part of the attack:
Speaking to Arutz Sheva, Jewish residents of Lod - who themselves are often targeted in racist attacks by local Arab extremists - voiced their dismay at the rush by some media outlets to immediately buy Abu Sharikh's story without fact-checking.
"Again and again we get lectured by the media, while part of the media wants to only hear one side of the story," one resident told Arutz Sheva. "Day and night Jews are bullied in Lod, and if it even reaches the media no one dares to say out loud that the attackers are Arabs."