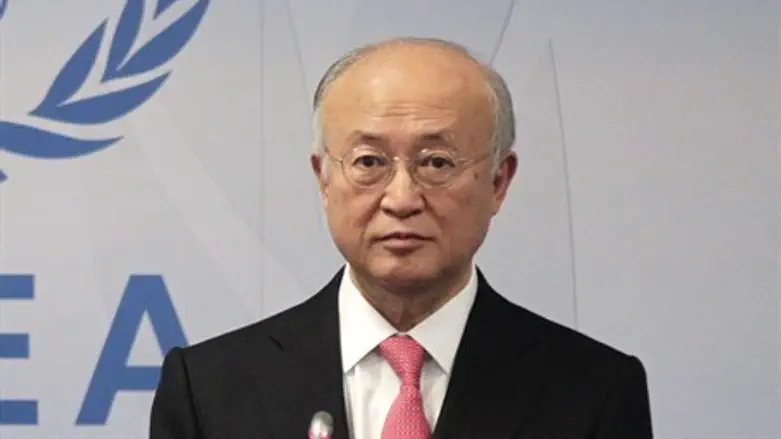 International Atomic Energy Agency Director G
Reuters
The UN nuclear watchdog chief will meet with the U.S. Senate Committee on Foreign Relations on Wednesday, to discuss his agency's monitoring role in Iran following Tehran's deal with world powers, Reuters reported on Friday.
Some members of Congress, which is considering whether to approve the deal, have asked that more information be made public relating to the International Atomic Energy Agency's (IAEA) part in verifying Iran's implementation of the pact, the report noted.
The IAEA said in a statement that Director General Yukiya Amano "will discuss the IAEA's role in verifying and monitoring nuclear-related measures under the Joint Comprehensive Plan of Action," which was agreed by Iran, the United States, Britain, France, Germany, Russia, China and the European Union in Vienna earlier this month.
Amano has the delicate task of assessing Iran's past and future nuclear program. He has no political mandate and never tires of stressing the IAEA's technical role.
If Iran were to break promises it made in the July 14 deal reached with six world powers, Amano and his inspectors would be responsible for detecting and telling the world about the breach, noted Reuters.
The IAEA said it is normal practice for it not to publish safeguards arrangements with countries and that Iran is no exception, adding that the arrangement it reached with Iran on July 14 meets its requirements to clarify outstanding issues.
The U.S. Congress has until Sept. 17 to accept or reject the agreement, though President Barack Obama has threatened to "veto any legislation" passed by Congress blocking the deal. 
Republicans have objected to the deal as not tough enough to prevent Iran obtaining a nuclear weapon in the long run, while several Democrats have expressed support.
Nancy Pelosi, the Democratic leader in the House of Representatives, last week urged her colleagues to back the nuclear agreement with Iran.
"As you may be aware, I believe that this agreement is a major accomplishment. I am pleased that the response thus far from House Democrats has been so positive," she said in a letter to colleagues, which came as congressional Republicans railed against a UN vote on the deal.
On the flip side, House Speaker John Boehner vowed to "do everything possible" to stop the deal between Iran and nuclear powers from being approved by Congress.
"While the president's Iran deal may have been applauded at the United Nations, I think he faces serious skepticism here at home," Boehner asserted.
"Members of Congress will ask much tougher questions this afternoon when we meet with the president's team, and because a bad deal threatens the security of the American people, we're going to do everything possible to stop it," he added.
(Arutz Sheva's North American desk is keeping you updated until the start of Shabbat in New York. The time posted automatically on all Arutz Sheva articles, however, is Israeli time.)