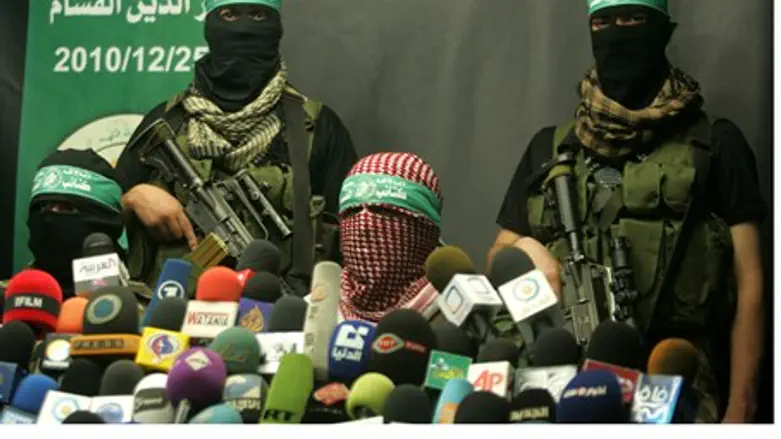 Hamas press conference (file)
Mohammed Othman/Flash 90
The Hamas terrorist organization vowed attacks in response to the lethal arson in the Arab village Duma in Samaria on Friday, but just before that a senior Hamas source said his group was seeking a long-term temporary ceasefire with Israel.
An Arab infant was killed in the arson and four family members wounded, in an attack the IDF has indicated may have been committed by Jewish extremists due to the presence of Hebrew graffiti at the scene.
Husam Badran, a key Hamas leader in Judea and Samaria, said in response to the arson that "this crime has turned IDF soldiers and settlers into legitimate targets, in any location and situation." His comment comes despite the fact that the identity of the perpetrators remains unknown - and despite the fact that the terror group has constantly attacked soldiers and Jews without any "justification."
Badran called for every "free person who can harm the occupier to start conducting revenge activities" because "the enemy doesn't understand anything but the language of force.
The Hamas call for terror was followed by a drive-by shooting just north of Jerusalem that fortunately left none wounded, and rock and firebomb attacks in Jerusalem's Old City that lightly wounded a police officer.
Badran said that the responsibility for the attack lies with Israeli leaders who "incite to murder Palestinian children," and added that "the execution" of the infant is a "despicable crime" that "obligates an unusual response."
Badran is a senior commander of Hamas's "military wing" Al-Qassam Brigades in Judea and Samaria, and has been involved in serious terrorist attacks against Israel.
Ceasefire?
Just before the arson, senior Hamas official Salah Bardawil told the paper Al-Quds Al-Arabi that his terrorist organization is working towards "a temporary ceasefire agreement with Israel in return for relief on the residents of the Gaza Strip who are suffering from the blockade."
His claim of an Israeli "blockade" comes despite the fact that while Israel imposes a legal maritime blockade, it allows a constant flow of humanitarian goods into Gaza; Hamas has been siphoning construction materials off and is using them to rebuild its terror attack tunnel system.
Bardawil said "intermediaries" are trying to advance a long-term ceasefire between Hamas and Israel in the framework of a diplomatic deal, but stated that Hamas rejected that notion and instead called for a full implementation of all clauses of the Egyptian-brokered ceasefire that ended last summer's war.
Those clauses stipulated that ongoing ceasefire talks will discuss removing the blockade, easing conditions for the reconstruction of Gaza, and building an airport and seaport in Gaza, according to the Hamas leader.
He rejected the Palestinian Authority (PA) claim that Hamas is holding diplomatic talks with Israel to break Gaza off from Judea and Samaria, in forming a peace deal with temporary borders.
Bardawil emphasized that Hamas is seeking to make Israel submit to its demands on all the issues raised in the ceasefire, and has no intention of separating Gaza from Judea and Samaria.