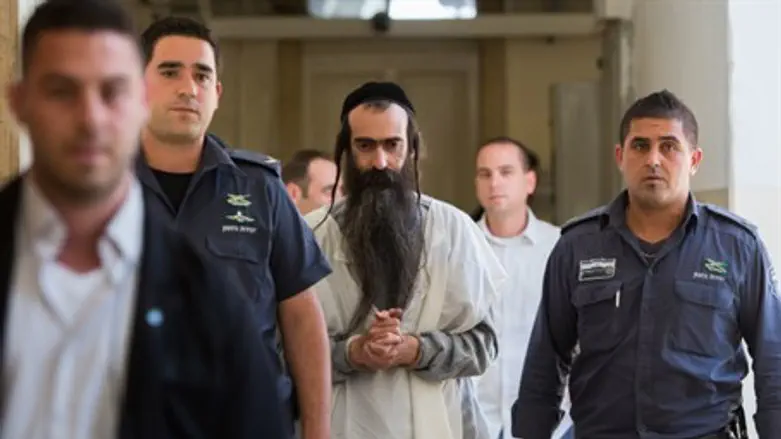 Center: Yishai Shlissel attending court hearing
Yonatan Sindel/Flash90
The Jerusalem Magistrate's Court extended the detention of Yishai Shlissel, the attacker who stabbed six people during Jerusalem's Gay Pride parade Thursday, by another twelve days on Friday.
Shlissel stated at the beginning of the hearing that he does not "trust" the Israeli government, and blamed it for his actions. 
"I don't recognize government institutions," he stated, according to Walla! News. "The court did not act according to Torah scholars." 
Until three weeks ago, Shlissel was serving time in an Israeli prison for attempted murder after carrying out a similar attack on the Jerusalem Gay Pride parade in 2005. 
Yonatan Sindel/Flash 90
Israel Police representative Oded Yaniv said that Shlissel "stabbed several of the participants with intent to kill."
Both the public and senior police officials note in the attack's aftermath that the fact that Shlissel was able to make his way to the march despite being released so recently for the same crime is a horrific oversight. 
"There was a moderate deployment there," a senior police official stated, puzzled, to the news outlet. He asked whether the police simply did not connect the dots. 
The Israel Police received an update from the Israel Prison Service warning of Shlissel's release after he left the system earlier this month, according to an initial investigation - but the intelligence sector working with police before the controversial parade somehow did not point to Shlissel as a security risk. 
"This was mediocre policing," the senior official said. "They just didn't take into account Shlissel when making the preparations."