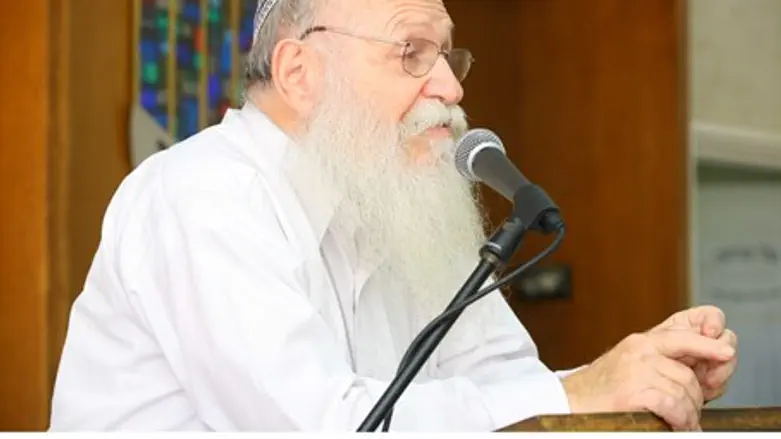 Rabbi Chaim Druckman
Hillel Lederman
Leading religious Zionist Rabbi Chaim Druckman, dean of the Or Etzion Yeshiva and chairman of the center of Bnei Akiva yeshiva and ulpana religious high schools, spoke on Friday morning about the morning's arson attack and the stabbing at the gay pride parade in Jerusalem the day before.
The stabbing was committed by a haredi man named Yishai Shlissel, who just weeks earlier was released after having been in jail for stabbing three people at the same controversial march in 2005.
"Yishai Shlissel is a lowly murderer and by his (religious) outward appearance he also adds an awful desecration of G-d's name," said Rabbi Druckman.
"Our rabbis teach us that everyone who has mercy for mankind is known to be of the seed of our forefather Avraham (Abraham), and everyone who does not have mercy for mankind is known not to be of Avraham's seed. The behavior of Yishai Shlissel is the complete opposite of Jewish behavior, and he must be treated severely likely every criminal."
The rabbi then turned his attention to the arson attack in the Arab village of Duma in Samaria on Friday morning, in which an Arab infant was killed and four family members wounded. The IDF has indicated it suspects Jewish extremists may have been behind the attack based on Hebrew graffiti found at the site.
"I find the need to once again say these are criminal acts that are anti-Jewish, anti-humane, and of course anti-ethical," said Rabbi Druckman. "These acts must be condemned and denounced."
In a call for action, he added, "the security forces must do everything to quickly find those behind these awful acts and to bring them to justice."
"Rid evil from your midst," he said in conclusion, quoting Deuteronomy 17:7.
Already four battalions have been dispatched both to find the culprits behind the arson, and in an attempt to prepare for possible Arab terrorism coming as a response after the Palestine Liberation Organization (PLO) terror group blamed the Israeli government for the arson.
Police in Jerusalem have boosted their presence, mostly in the Old City, in time for Muslim prayers on Friday out of fears that the situation will be manipulated for incitement to terrorism.
Police likewise decided to limit entry for Muslims to the Temple Mount, only allowing in men over age 50 and all women.