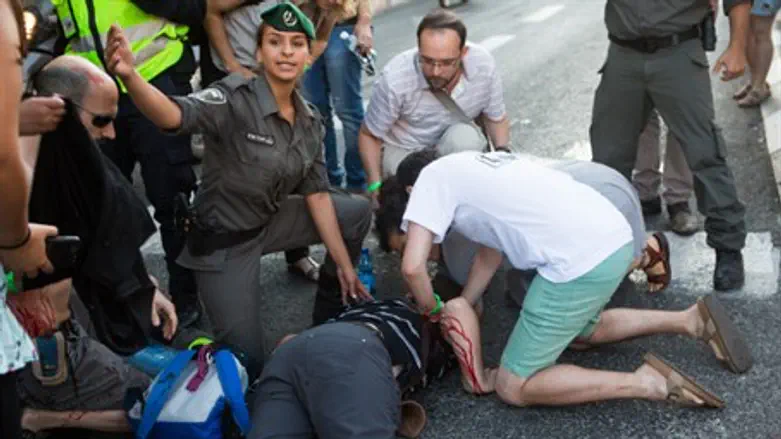 Stabbing at the gay parade
Miriam Alster/Flash 90
Jerusalem councilman Arieh King spoke to Arutz Sheva on Thursday night about the stabbing attack by a haredi attacker hours earlier at the gay pride parade in Jerusalem, in which six people were wounded.
"It isn't a good evening," began King. "This evening Jewish blood was spilled on the streets of the Holy City. This time the murderer was not Muslim as unfortunately we have grown accustomed to; this time it was a member of our people, a grown-up person who is mentally sick and already tried to murder Jews in the past."
The statement refers to the fact that the stabber, Yishai Shlissel, had just been released from jail several weeks before the attack after having been imprisoned for stabbing three people at the same march in 2005.
"Even when there are disputes between us we must not accept a despicable act like this, and we must condemn every attempt at murder," emphasized King.
Looking deeper at the causes of the attack, the councilman argued that the gay parade in Jerusalem - which has a majority religious population - is a provocation that created unnecessary friction and paved the path for such incidents.
"I will continue to act and I call on others to act" against the gay pride parade in Jerusalem "only, and I mean only, within the framework of the law," said King.
Since the 1990s, gay activist groups have held an annual mega-parade in the largely-secular Tel Aviv. However, in 2002 they began holding a smaller, far more contentious march through Jerusalem, amid bitter opposition from the city's largely traditional and religious residents.
"The shocking act this afternoon harms the unity of the city, the holiness of the city and the unity as a nation, a nation that cannot allow itself to be divided to the point of attempts at murdering one another," said King.
"We have enough hardships from outside and enough enemies trying to spill our blood. I wish a full and speedy recovery to all the wounded."