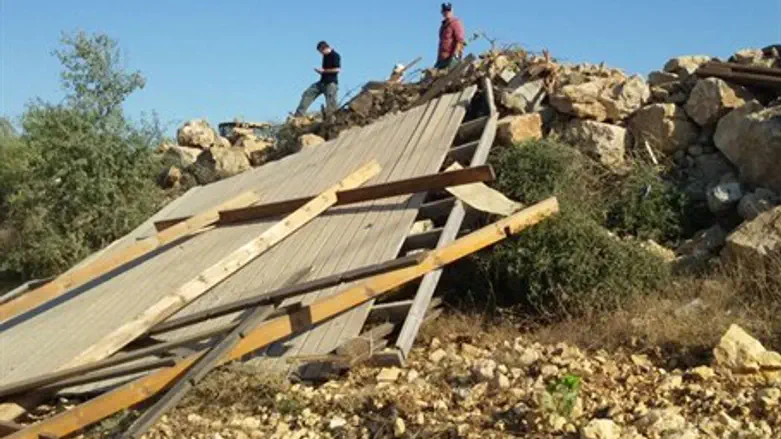 Holocaust survivor memorial in Netzer destroyed
Women in Green
In a shocking land grab attempt at a site where Arab activists have long been trying to steal state land, Arab assailants from a village near Netzer in Judea's Gush Etzion on Thursday bulldozed a nearby memorial observation point with a tractor.
Women in Green (WIG) established the observation point with a pergola dedicated to the memory of Holocaust survivors, as well as a memorial to a Holocaust survivor. While the Arabs were still demolishing the site the heads of WIG Yehudit Katsover and Nadia Matar received a tip off and rushed to the scene.
The two were accompanied by members of the Committee for Netzer, Gush Etzion lands commissioner Moshe Frucht and the local security personnel, and together were able to stop the Arabs from wreaking further destruction to the memorial site.
In parallel, another Arab tractor entered a different section of Netzer and tried to seized large portions of land that recently was declared as state land, reports WIG.
There has been an ongoing Arab battle to grab state land in Netzer that has lasted many years, with WIG leading efforts to control and develop state land and thereby prevent illegal settlement on it by Arab squatters.
Remarking on the controversial demolition of two buildings in Beit El just north of Jerusalem on Wednesday on the order of the Supreme Court and despite the near completion of the buildings' legalization, Katsover and Matar said in a joint statement, "the tailwind from Beit El has arrived to Gush Etzion."
"The Arabs destroyed the memorial site dedicated to the memory of Sarah Spiegel, obm (of blessed memory), known for her love of Israel, fearlessly and in broad daylight. They destroyed the large pergola, benches, trees," said the two.
"Let's see how the bleeding hearts cry out and make excuses now that the destruction is over. The Arabs' audacity is rising more and more while the image of the Israeli government becomes lower and lower."
The WIG heads promised that "we will return to set up the site and the observation point overlooking Gush Etzion Junction, Alon Shvut, Elazar, Efrat and Rosh Tzurim."
Pergola before destruction Women in Green
Memorial to Sarah Spiegel Women in Green
Arab land grabbers Women in Green
Destroyed pergola
Women in Green