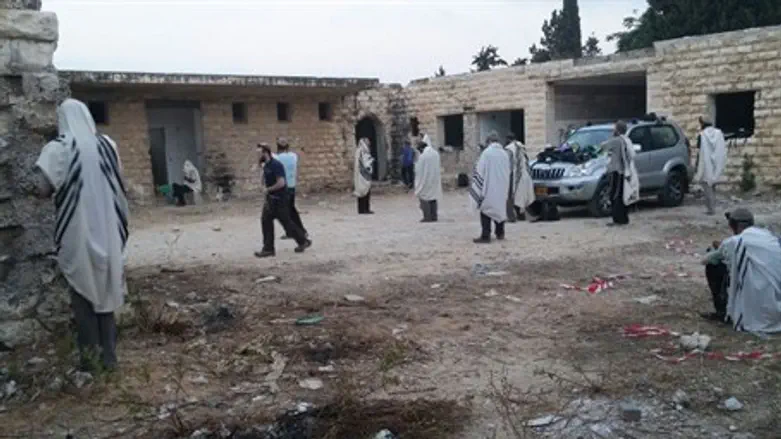 Protestors at Sa-Nur
Homesh First
Protestors and residents who attempted to return to their homes in Sa-Nur and were removed by security forces early Thursday said that some of the Border Police and IDF soldiers involved in the evacuation had acted in a brutal and violent manner. Residents said forces used pepper gas and tear gas to quell protests, and that dozens of people, including young children, sustained physical beatings as they were forcibly dragged to buses removing them from the site.
Of the 250 people who were at the site, many were evacuated without incident, but several dozen practiced tactics of "passive resistance," refusing to move on their own. It was this group that said that police had acted in a brutal manner.
According to officials of the Homesh First organization, which helped coordinate the protest, said that unlike rumors that have been circulating, protestors and residents had not promised to leave the site willingly, but had intended to remain and use passive resistance tactics when the army tried to remove them. There was no plan or intention to face off physically against forces, as sources in the army were indicating.
The IDF declared Sa-Nur a closed military area Wednesday night, and blocked shipments of food and supplies. This, after activists originally received permission to send such supplies in to the group of some 250 who were at the site.
In returning to their abandoned homes, the former residents marked ten years since Sa-Nur was forcibly evacuated, along with three other northern Samaria towns and Gush Katif in Gaza, as part of the 2005 Disengagement plan.
The 20 or so families, accompanied by roughly 200 supporters from around the country, were preparing the town for habitation again before the eviction.
Several more families succeeded in returning to Sa-Nur on Tuesday, avoiding the security forces and their barriers. Likewise, a shipment of food and other supplies arrived in the hands of the returned residents.
On Tuesday morning the families sent a letter to Prime Minister Binyamin Netanyahu and Defense Minister Moshe Ya'alon (Likud), urging them not to have IDF soldiers expel them from their homes again.
"IDF soldiers are our beloved brothers, flesh of our flesh. We demand not to repeat the trauma of the expulsion, and not to force IDF soldiers to expel us again from our homes," they wrote.
"Placing the soldiers against their settler brothers is the addition of sin to a crime. Even if the government wants to expel Jews from their homes and their land, that should be done by police officers, and not by soldiers and Border Patrol soldiers who give the best of their years for the security of Israel."
credit: יוחנן לישה
credit: יוחנן לישה
credit: יוחנן לישה
credit: יוחנן לישה
credit: יוחנן לישה
credit: יוחנן לישה
credit: יוחנן לישה
credit: יוחנן לישה
credit: יוחנן לישה