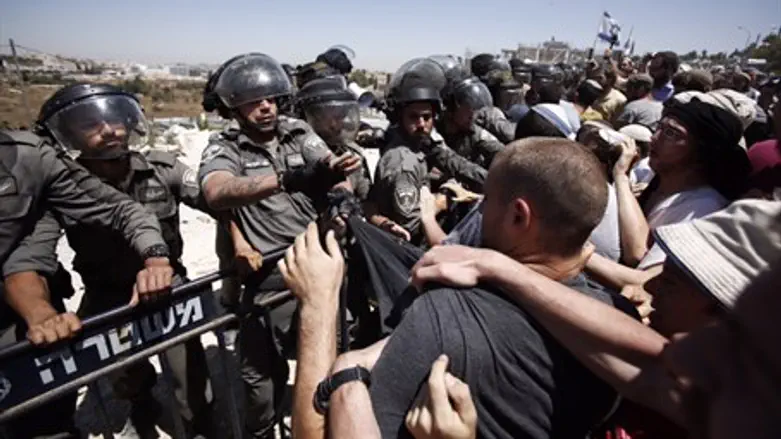 Border Police in Beit El
Yonatan Sindel/Flash90
Several Border Policemen refused to take orders to demolish a series of homes destroyed in Beit El on Wednesday, a source at the scene stated to Arutz Sheva, and will now likely face jail time for their loyalty to the residents. 
"We met here many religious Border Police troops and policemen [...] religious people for whom it's very hard to do this job," the Director of Religious Services in Beit El, David Nazri, stated Wednesday. Nazri has spent the past three days at the site of the Draynoff Houses, which have been a focal point for clashes between Beit El residents and security forces. 
"I personally met a border policeman who refused [orders], there are many who refused and I know were sent to serve a 30-day prison sentence," he said. "The border policeman told me they sent a psychologist to convince [the soldiers to take orders], but many [refused and] went to jail [anyway]." 
Hundreds of Border Police and Israel Police officers are currently still in Beit El, Nazri reported from the scene. 
And while the people of Beit El still have a unique spirit, he said, many members of the community do not believe Prime Minister Binyamin Netanyahu's renewed assurance that he will fulfill a promise to build 300 housing units. 
The 300 units were promised by the Israeli government three years ago after the relocation of the Ulpana houses in Beit El, but Netanyahu publicly denied intending to fulfill that promise two weeks ago. 
"As long as we do not see it play out live - the Prime Minister submitting the documents to the council head [for the apartments] - we do not believe in him," he said. "We are fed up with broken promises." 
The Border Police, meanwhile, has denied sending soldiers to jail for refusing orders, as well as scattered reports of police brutality at the site. 
"Most of the tasks assigned to the Border Guard officers were carried out as requested with sensitivity," they insisted to Arutz Sheva Wednesday.