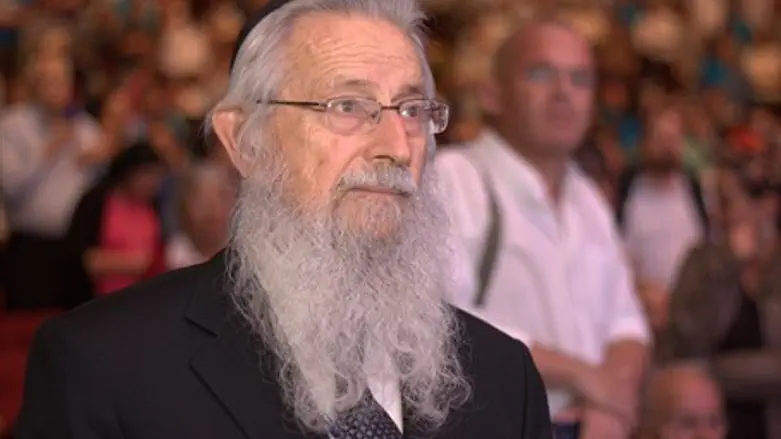 Rabbi Zalman Melamed
Hilel Meir
Shortly before the construction plans were announced, Rabbi Zalman Baruch Melamed, an influential religious Zionist leader and the dean of the Beit El Yeshiva, on Wednesday called on Jewish Home members to stop their "empty lip service," and to cut off contact with Prime Minister Binyamin Netanyahu until he fulfills his promises.
Netanyahu breached an election promise to build 300 housing units in Beit El, and currently the Draynoff Compound in the town is undergoing demolition despite having nearly completed the official legalization process.
The government decision to start building the 300 units may possibly have been connected to Rabbi Melamed's pressure on Jewish Home chairman Naftali Bennett to get the promise fulfilled, although it remains unclear if any such action was taken by Bennett.
Rabbi Melamed told Arutz Sheva that the Supreme Court decision Wednesday not to rehear the case of the Beit El buildings is an "attack on Beit El."
"Promises that the prime minister made to us in the name of the attorney general and all the (political) echelons that could be responsible for matters were not fulfilled, and it really infuriates all the residents of Beit El, and not just them but all the residents of Judea and Samaria."
The rabbi addressed Jewish Home, and said the party "until now has only been paying lip service. Until now nothing has been realized of what they spoke about and promised, and if Jewish Home thinks once again to just continue to talk and talk, we are very disappointed by them."
"We will need to reconsider our connection with Jewish Home," warned Rabbi Melamed.
Rabbi Melamed said Jewish Home must "cut contact with the coalition, not to collapse it but to cut contact until the promises are kept in practice. ...Three hundred housing units were promised here, a change in all the demolitions of homes was promised, but nothing has been upheld. It all remains just promises."
"I don't think that Jewish Home can agree to continue with business as usual and continue to make statements that 'now they'll build, and now they'll build.' It has no meaning," he said, referring to the ongoing covert two-year construction freeze in the region.
"I don't see results, not from (Jewish Home chairman Naftali) Bennett and not from others. All Jewish Home MKs declare declarations...this is unnecessary. They need to cut contact...until the end of this impossible freeze in Beit El and all Judea and Samaria."
Explaining his call, the rabbi said he urges Jewish Home to stop voting with the coalition until promises are fulfilled, and likewise said Bennett could stop taking calls from Netanyahu.
Rabbi Melamed's concerns about Jewish Home's ability to protect religious Zionist goals come the same day that controversial statements made by Jewish Home MK Yinon Magal last Friday were published.
In a Tel Aviv University conference, Magal said he was willing "to give up on land in exchange for peace," adding "it's a bummer to be an occupier."