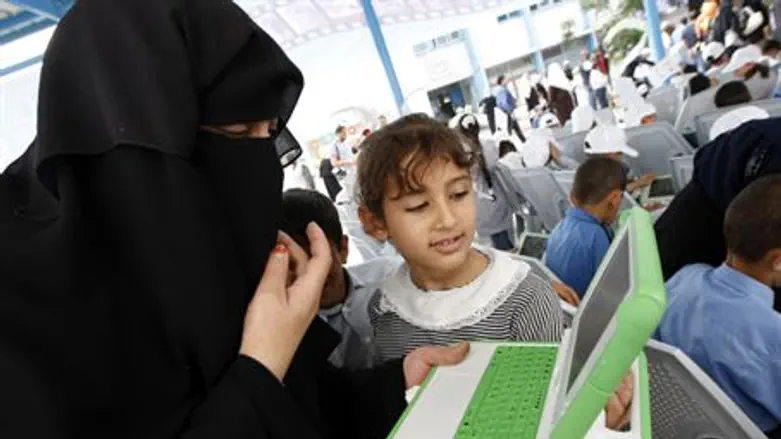 UNRWA school in Gaza (file)
Flash 90
The Hamas movement that holds de facto rule in Gaza on Tuesday sent a threatening message to UNRWA, the UN body tasked with "Palestinian refugees," which recently admitted it's going bankrupt and will have to close schools.
In an announcement published by the terror group, it said UNRWA is "giving up its role" of providing services to "refugees," a status designated to the Arabs who left Israel in the 1948 War of Independence as well as their now roughly five million descendants. That hereditary "Palestinian refugee" status operates in contradiction to all other refugees in the world, who are all handled by the UNHRC.
In a not-so-subtle threat of violence, Hamas said UNRWA's cutbacks are worsening "the already aggravated situations in all areas where Palestinian refugees exist, which could result in things spinning out of control."
It added that UNRWA's announcement that it will have to close schools is "nothing but a political game designed to damage the education sector under the guise of financial and technical difficulties."
UNRWA announced earlier this month that its whopping $101 million deficit may cause it to close 700 schools in Gaza, Judea and Samaria, Lebanon, Syria and Jordan at the start of the next school year.
UNRWA schools have been accused of being "incubators of terror" in teaching radicalism, aside from being weapons storehouses for Hamas, as seen last summer when rockets were found at three different UNRWA facilities. After the first discovery of rockets at an UNRWA school, the organization's workers reportedly called Hamas to come remove them.
In addition, a UNRWA clinic was booby-trapped in an attack that killed three IDF soldiers, and the facility was found to be sitting on dozens of tunnel openings.
Journalist David Bedein, head of the Center for Near East Policy Research, has revealed how UNRWA schools indoctrinate children in Gaza to create a "civilian army." He has also documented the symbiotic relationshipbetween the agency and Hamas.
While the UN body was established for the roughly 800,000 "Palestinian refugees" in 1949, separately from the existing UNHRC which deals with all other refugees in the world, the UN took no action to aid the 850,000 Jewish refugees expelled from Arab lands after the establishment of the state of Israel.