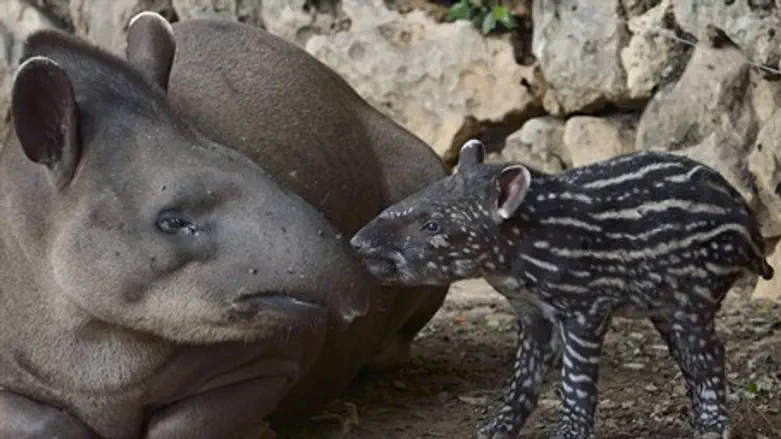 Baby tapir in Israeli zoo (file)
Tibor Jager/Ramat Gan Safari/FLASH90
Workers at Hay Park in Kiryat Motzkin to the north of Haifa were shocked on Monday morning to find a tiny newborn tapir nursing from its mother at her pen in the park's zoo - their shock was due to the absence of male tapirs at the zoo, reports Channel 2.
The baby and mother are of the Brazilian tapir variety, which has been classified as vulnerable and likely to join other tapir species as being endangered in the near future, making the discovery all the more incredible for the stunned workers.
So what was the cause of the "miraculous" mystery?
Sivan, the tapir mother, had recently been transferred from Jerusalem's Biblical Zoo.
Confused workers put two and two together and came to the conclusion that she had likely become impregnated there just before leaving and arriving in her new home - either that or divine intervention.
Brazilian tapirs are vulnerable due to hunting and deforestation in the South American jungles they hail from.
While the large herbivores somewhat resemble pigs, they are closest to other odd-toed ungulates, such as horses and rhinoceroses.