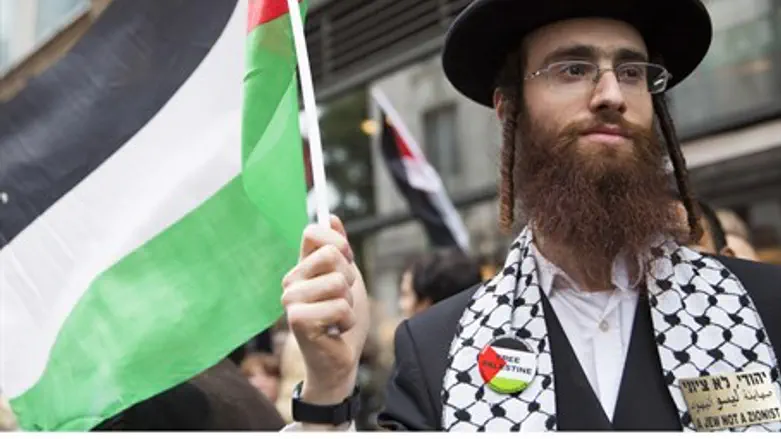 Neturei Karta member flies a PLO flag (file)
Reuters
A group of activists held a demonstration outside Number 10 Downing Street Sunday, protesting against the recently-signed nuclear deal between Iran and the world powers.
The activists, members of the Campaign For Truth (C4T) organization, read out letters of support for their cause by prominent military and political personalities, including former UK army commander Colonel Richard Kemp.
They then handed a petition against the agreement to the Prime Minister's office, urging Prime Minister David Cameron to "dissent from this deal, to be the lion amongst the sheep."
But while the peaceful demonstration went ahead without any trouble, activists were suddenly confronted by a group of radical anti-Zionists from the extremist Neturei Karta sect.
The scene was captured by pro-Israel blogger Richard Millett:
According to Millett:
Then just as C4T representatives were about to deliver a letter to David Cameron the Neturei Karta extremists suddenly appeared brandishing an Iranian flag and a Palestinian one. They spent 20 minutes yelling "Israelhell" and telling Zionists that they are not Jews.

I asked them why they weren't in synagogue for Tisha B'av but I was lectured that they didn't need to be. Fair enough. Eventually the police moved them on for protesting without advanced permission
Neturei Karta is a small sect numbering some several hundred followers, who believe that the Jewish people may not have a state of their own until the coming of the Messiah - and that it is therefore their holy duty to ally with enemies of Israel to destroy the Jewish state. The group is supported by the Iranian regime and its proxies - including Hezbollah and Hamas - and has been ostracized by the mainstream Jewish community.
Neturei Karta rally outside Downing Street in favor of Iran deal
Credit: Richard Millett
The Neturei Karta protesters were eventually forced to move on by police, however, after not following legal procedures.
In his letter of support, Colonel Richard Kemp - the former head of UK armed forces in Afghanistan - voiced his regret at not being able to attend personally, and praised activists for turning out "to protest this truly ill-judged and dangerous agreement."
Branding the Islamist regime in Tehran a "fascist, imperialist, totalitarian, murderous dictatorship," and "the most duplicitous double-dealing and deceitful regime in history," Kemp echoed concerns voiced by other opponents of the deal, that billions of dollars in sanctions relief will "enable the Ayatollahs to expand their imperialist violence many times over."