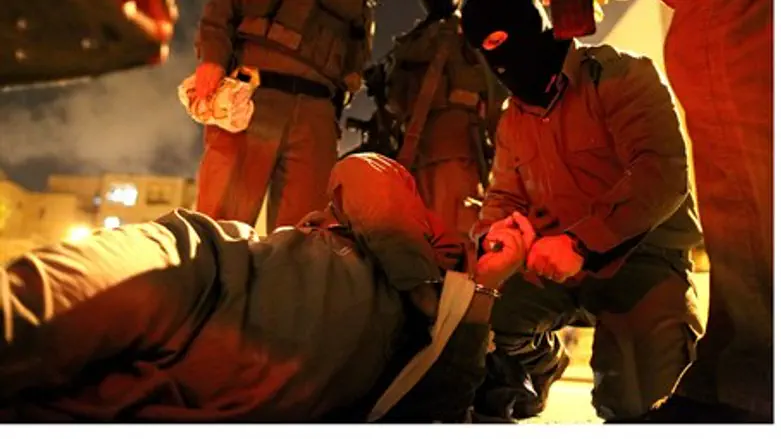 Nighttime arrest of Arab terrorist (illustration)
Nati Shohat/Flash 90
An Arab terrorist on Monday fell to his death while trying to escape arrest at the northern Jerusalem neighborhood of Kalandia.
Border Police forces had entered Kalandia to arrest two terrorist suspects.
One of the two suspects tried to flee the police across a roof, and the forces shot him in the leg to stop him. He nevertheless continued trying to escape, and as he attempted to jump to another roof he fell to his death.
The forces had called on the running suspect to stop, before shooting at his lower extremities, police said.
"Despite that, the suspect continued to run and when he attempted to get to the roof of another building, he fell off it and was mortally wounded," a statement read.
A paramedic with the troops attempted to treat him, but was forced to pronounce him dead at the scene, police said.
The two suspects had "planned a terror attack in Israel," according to the statement.
Palestinian Arab sources identified the dead man as Mohammad Abu Latifa, 18.
Kalandia has been a hotbed of terrorist activity for some time.
Late last month an attack was thwarted as a terrorist was shot trying to run over soldiers at a security checkpoint with his car while shouting "Allahu akbar" (Allah is greater).
The latest incident comes following several other cases of Arab terrorists dying while resisting arrest.
As IDF forces rounded up a number of Arab terror suspects from the Beit Ummar village near Hevron last Thursday, a Fatah activist and his sons tried to strangle the soldiers forcing them to shoot him; he later died of his wounds.
AFP contributed to this report.