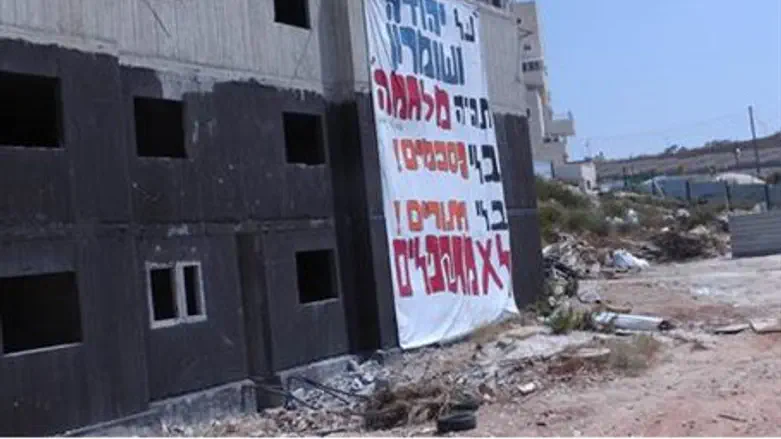 Draynoff Houses
Arutz Sheva
Residents of Beit El and supporters of the community are set to rally Sunday night, demanding that the government follow through on its plan to ensure that the Draynoff Houses in the community are left standing.
In the wake of a High Court decision that would have required the buildings to be demolished, the Civil Authority last week authorized the building plan for the project, after a planning council removed its objections to the plan. With the authorization, the road is open to providing retroactive building permits for the project.
However, in order for the plan to take effect, it needs to be signed off on at the ministerial level. In addition, the Civil Authority decision, while providing for permits for planning and construction, would require the demolition of the existing buildings and the construction of new ones.
The rally Sunday is designed to pressure the government into accepting the plan and preserving the existing homes. If the relevant ministers do sign the plan, residents believe they will be able to get an injunction against the buildings' imminent demolition.
Last week, senior rabbis in the Religious Zionist community called on the public to demonstrate on behalf of the residents of the "Draynoff Houses," supporting them in "their just struggle for their right to settle in the Land of Israel."
The rabbis, among them Rabbi Dov Lior, Rabbi Nachum Rabinowitz, Rabbi Shmuel Eliyahu, Rabbi Elyakim Levanon, Rabbi Shlomo Aviner, and others, issued a public letter calling for mass protests against the planned demolitions. "Especially at this time," their letter said, "when we commemorate a decade since the terrible removal of Jews from Gush Katif, and the government implements yet another building freeze in Judea and Samaria."
The government, reads the letter, "is under pressure from the nations of the world, and is ignoring our G-d given right to build in Judea and Samaria." The antidote, according to the rabbis, is pressure from the other side, demanding that Jews be allowed to settle anywhere they want on their land, the letter said.