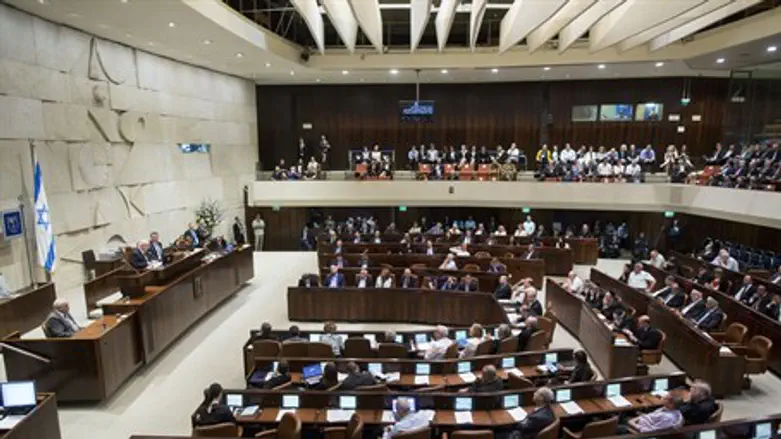 Knesset in session (archive)
Yonatan Sindel/Flash 90
The Knesset on Wednesday night approved the first reading of a bill that allows one minister or deputy minister from each party to resign from the Knesset - paving the way for new MKs to enter.
According to the law, which was promoted by the Jewish Home party and was modeled after the Norwegian Law, the new MKs who enter in place of the resigning ministers or deputy ministers will serve as MKs so long as the ministers they replaced are in office.
The bill was opposed by the opposition, but the Yisrael Beytenu party voted in favor of the bill.
Justice Minister Ayelet Shaked (Jewish Home), who presented the proposal before the vote, said that until now "voluntary resignation was at the discretion of the member of the Government. The situation in which a Knesset member holds two roles (as MK and minister -ed.) harms the functioning of the legislature whose job is, among others, to oversee the work of the government."
MK Meir Cohen (Yesh Atid) attacked the law and said, "I am in favor of the Norwegian Law before elections but not now. You cannot change the rules in the middle of the game. You cannot start a soccer game and 45 minutes into the game start playing by different rules."
MK Mickey Rosenthal (Zionist Union) also criticized the bill, saying, "You mixed up the Norwegian Law and the result is something that has no connection between with the original Norwegian Law. It is not the Norwegian Law, it is the Israeli Jobs Law. These frequent changes to basic laws increase the public's lack of faith in Israeli democracy."