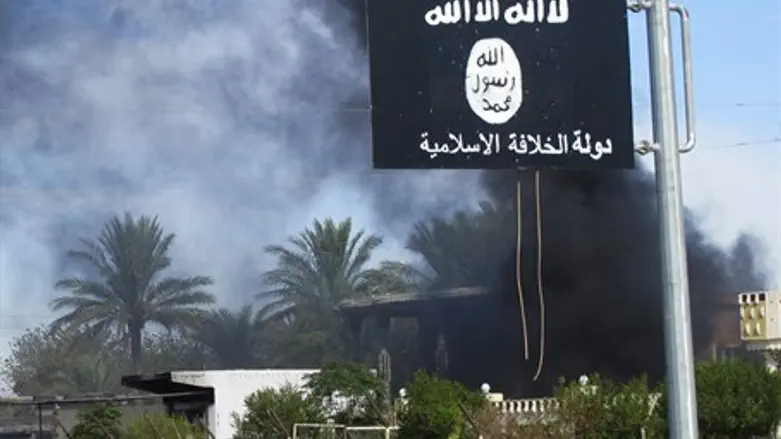 ISIS flag
Reuters
Turkey said Tuesday it had identified a suspect in Monday's suicide bombing on the border with Syria blamed on Islamic State (ISIS) jihadists, AFP reports.
Thirty-two people were killed and more than 100 wounded on Monday when a bomb ripped through a gathering of young socialist activists preparing to take aid over the border into the flashpoint Syrian town of Kobane.
The attack in Suruc, in a mainly Kurdish region of Turkey, was one of the deadliest in the country in recent years and the first time the government has directly accused Islamic State of carrying out an act of terror on Turkish soil.
"One suspect has been identified. All the (suspect's) links internationally and domestically are being investigated," Prime Minister Ahmet Davutoglu said in the regional centre of Sanliurfa after visiting the wounded in hospital.
He added there was a "high probability" the attack was caused by a suicide bomber with connections to ISIS.
"We expect this investigation to be concluded as soon as possible," he said, according to AFP.
Davutoglu said the death toll had risen to 32 and that 29 injured victims were still in hospital.
"What is necessary will be done against whomever is responsible for (the attack)," he declared, adding, "This is an attack that targeted Turkey."
Meanwhile, the Turkish Hurriyet daily said the country's intelligence agency had previously warned the government that seven ISIS members -- three of them women -- had crossed into the country in recent weeks with the aim of carrying out attacks.
Previous reports had suggested the bomber was a woman but the DIHA news agency said the suspect was a 20-year-old Turkish man who had become involved with ISIS two months ago.
Davutoglu declined to give any further details on the suspect's identity.
ISIS group, which has captured swathes of territory in Syria and Iraq adjoining the Turkish border, has so far not claimed the Suruc bombing, but Davutoglu said Turkey was taking steps to improve border security, which has long been criticized by Turkey's Western partners as lax.
He said the cabinet would discuss Wednesday an "action plan" on border security and the government would then take the "necessary measures".
Turkish authorities have cracked down on ISIS networks, arresting dozens of suspects in recent weeks, and the country beefed up its border with Syria with tanks and anti-aircraft missiles as well as additional troops.
The crackdown began after Turkey came under international pressure to tighten the security of its volatile 566 mile border with Syria to cut the flow of jihadists who try to join the ranks of ISIS.
Ankara was especially criticized over its failure to stop three British teenage girls who crossed the Turkey-Syria border to join ISIS in February. The three teens, Shamima Begum, 15, Amira Abase, also 15, and Kadiza Sultana, 16, are now feared to have reached the conflict zone and are believed to be staying at a house in the city of Raqqa, a stronghold of ISIS.
Turkey fiercely rejects the accusations, saying it is making every effort to secure a long border. In turn, it has accused the West of not playing its part to shoulder the burden of hosting 1.8 million refugees from Syria.