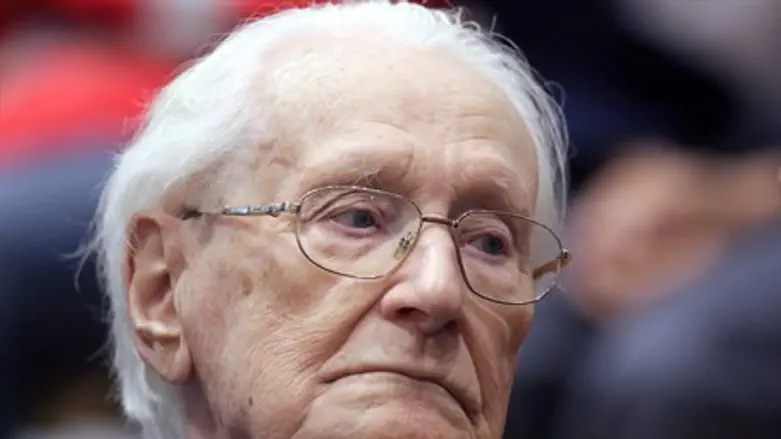 Oskar Groening in the courtroom
Reuters
The defense team for former SS sergeant Oskar Groening, also known as the "Bookkeeper of Auschwitz", on Monday filed an appeal against his conviction of 300,000 counts of accessory to murder, CBS News reported.
Groening was convicted last week and sentenced to four years in prison, but will remain free until his appeals are heard. His lawyers say he deserves a sentence reduction for the amount of time it took to bring him to trial, according to CBS.
Attorney Hans Holtermann filed the appeal Monday, arguing that judges incorrectly rejected reducing the sentence because 94-year-old Groening was only brought to trial this year even though his case has been known for decades.
Kathrin Soefker, a spokeswoman for Hannover prosecutors, said her office has not yet decided whether to file its own appeal.
The charges against Groening related to a period between May and July 1944 when hundreds of thousands of Jews from Hungary were brought to Auschwitz-Birkenau. Most were immediately gassed to death.
When the trial began in April, Groening said he felt moral guilt but it was up to the court to decide if he was legally guilty of a crime. He later admitted his guilt for his role in the Nazi machinery that sent millions to their deaths, telling the court he was not entitled to ask for forgiveness from anyone but God.
Dozens of Auschwitz survivors joined the trial as co-plaintiffs, as allowed under German law, and many of them testified about their own experiences in the death camp.
Jewish groups have welcomed Groening's conviction but have also urged justice authorities to maintain pressure on aging war criminals.
In recent years, Germany has begun a crackdown on Nazi war criminals. The crackdown began following the 2011 Munich trial of John Demjanjuk, a Nazi war criminal charged of assisting in the murder of 28,060 people at the Sobibor death camp and sentenced to five years. The former Nazi died in 2012.