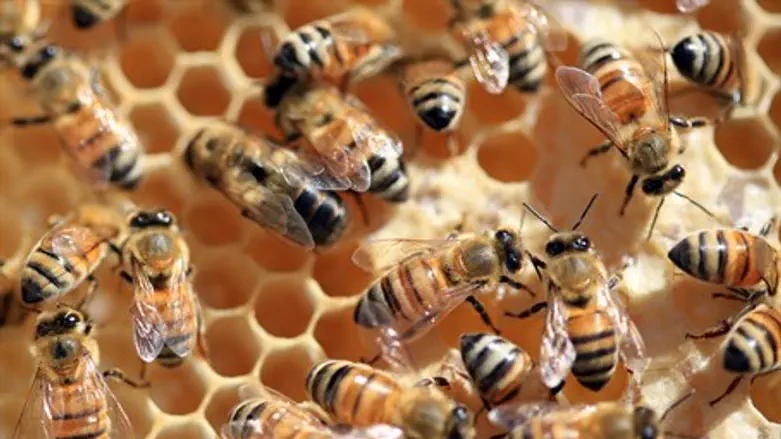 Bees on a honeycomb (illustration)
Flash 90
An agreement for direct non-stop flights between Israel and Japan has been signed – and Israeli bumble-bees might be the first passengers.
Representatives from Israel El Al Airlines and Japan's largest aviation company, All Nippon, signed the deal at a recent meeting in Tokyo. Up to 14 direct flights between the two countries will take off each week – though no date has yet been set for the program to take off.
Coincidentally or not, Israeli bumblebees are currently looking for a non-stop flight to Japan. Bio-Bee, a company based in the religious-Zionist Kibbutz Sde Eliyahu near Beit She'an, has been helping Japan to compensate for its dwindling honeybee population, sending packages to the far-eastern country each containing a queen bee and 50 worker bees.
The deliveries are made in spacious hives, in which the worker bees supply the needs of their impregnated matriarchal boss. Once in Japan, the bees are delivered to greenhouses in farms through the country. Bio-Bee raises the bees specifically for pollination purposes, ensuring productive harvests.
Unfortunately, however, their flight to Japan is interrupted by a short stop-over in Moscow. It appears that the new El Al-All Nippon direct flights will arrive just in time to solve this problem.
Honeybees have been declining in numbers throughout the world, including in Israel and especially in Japan. The specially-bred Israeli bees, which specialize in pollination under difficult conditions, are now doing their work in Japan as well.
There are currently no direct flights between Israel and Japan, and most passengers traveling between the two countries travel via Hong Kong or Seoul. Some 13,000 people traveled from Japan to Israel in 2014, and this number is expected to increase significantly with the availability of direct flights.
Calling the agreement "really good news," Transportation Minister Yisrael Katz said that it is a direct continuation of his "open-skies policy."