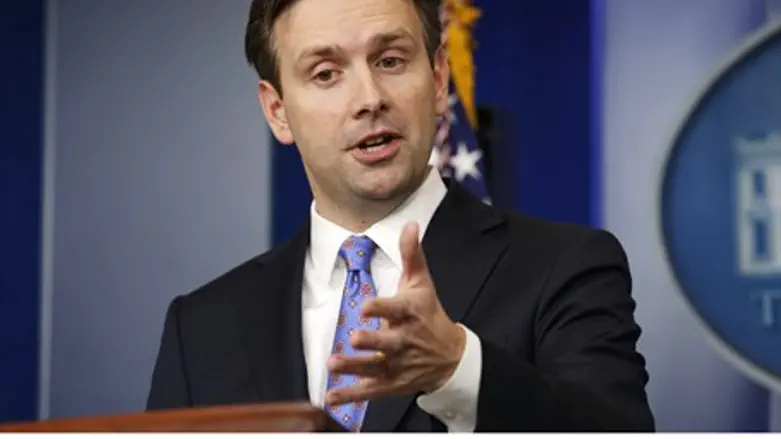 White House spokesman Josh Earnest
Reuters
White House spokesman Josh Earnest on Friday addressed the nuclear deal reached with Iran this past week, saying that military options remain available regarding Iran, but the administration is pursuing diplomacy first.
Earnest said that the nuclear agreement with Iran would actually enhance the United States' potential military options if Iran violates the compact, according to the Reuters news agency.
He added that the agreement will give the United States more insight into Iran's activities.
Earnest also warned that if the U.S. Congress rejects the agreement, then Iran will not face any consequences for its actions.
Not backing the deal, Earnest  said according to Reuters, would amount to Iran getting off "scot-free."
He also said the administration is confident that it has strong support among U.S. Democrats in the House of Representatives.
Some American lawmakers, particularly Republicans, have expressed their objection to the Iran deal. A Republican Senator in the Senate Foreign Relations Committee made clear this week that American legislators are considering imposing further sanctions on Iran, despite the agreement.
"All options are on the table," the Senator told news site The Hill, including placing new economic sanctions on Iran.
President Barack Obama, however, has threatened recently to "veto any legislation" passed by Congress blocking the deal. 
During a press conference on Wednesday about the final deal, Obama said Congress could discuss the agreement. 
In spite of his willingness to allow Congress to debate the agreement, Obama asserted it would be "irresponsible" to object to the deal and maintained he would veto any attempts to torpedo it. 
(Arutz Sheva's North American desk is keeping you updated until the start of Shabbat in New York. The time posted automatically on all Arutz Sheva articles, however, is Israeli time.)