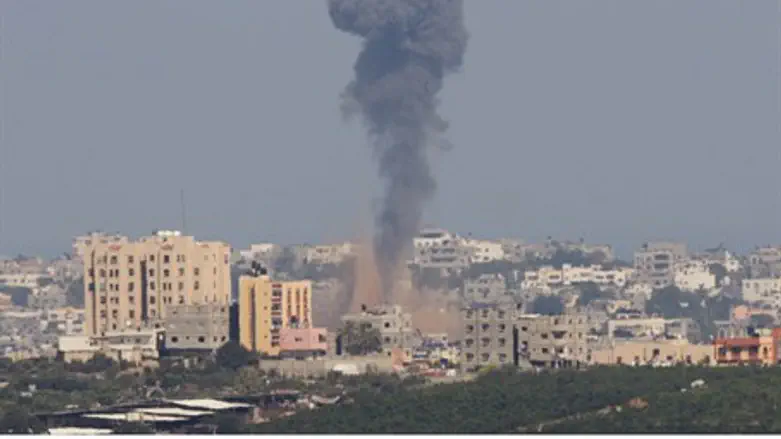 IAF airstrike in Gaza (archive)
Flash 90
The Israeli Air Force launched an airstrike against a terrorist infrastructure in Gaza early Thursday morning, the IDF Spokesperson's Unit said in a statement.
According to the announcement, the airstrike was in retaliation for a rocket attack on the Hof Ashkelon region on Wednesday night.
"The IDF views the incident gravely and will not tolerate any attempt to harm Israeli citizens," said the IDF statement, which said that Hamas bears direct responsibility for all rocket attacks on Israel.
Around 2:00 a.m. Israel time, the "Red Alert" rocket siren was heard in Zikim, Carmiya, the Ashkelon Industrial Zone and Hof Ashkelon.
Shortly afterwards, the rocket from Gaza exploded in an open area of the Hof Ashkelon Regional Council, causing no physical injuries or damages.
Earlier this month, a barrage of three missiles was fired from the Sinai Peninsula in Egypt into southern Israel's Gaza Belt region. All three missiles exploded in open areas, causing no physical injuries or damages.
An IDF investigation revealed that the rockets had likely been shot from terrorists in the Sinai Peninsula, which was confirmed by the Islamic State (ISIS) jihadist group's affiliate in Egypt. 
The Hof Ashkelon region was also targeted by Gaza terrorists in late June, when a rocket exploded in an open area, causing no injuries or damages.