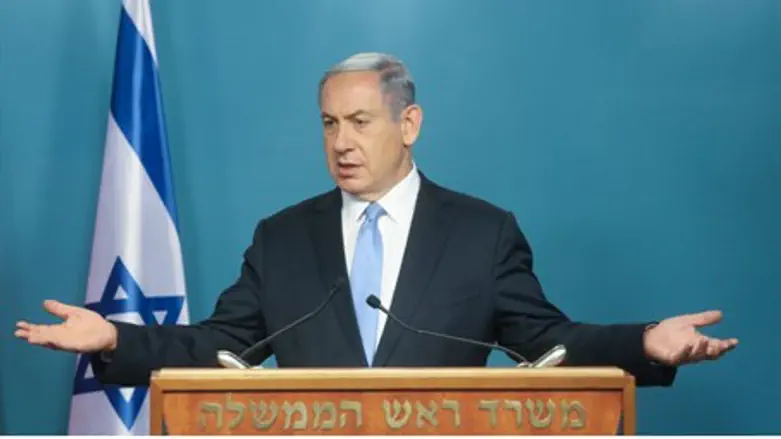 Prime Minister Binyamin Netanyahu
Marc Israel Sellem/Flash 90
Former Israeli Ambassador to the US, Zalman Shoval, rejected allegations that the deal forged between Iran and the West represents a failure of Prime Minister Binyamin Netanyahu's leadership on Tuesday, in a special interview with Arutz Sheva. 
"Israel conducted a campaign, of which we can say in concrete terms was successful," Shoval said. "If not for the efforts of Prime Minister Netanyahu in recent years, the agreement would have been worse and we would not have remained informed about the process during preliminary talks." 
Shoval says that the purpose of the struggle of Israel in the US Congress is to get a majority that would topple a presidential veto. 
''I would not want to be too optimistic, the chances of this are slim," Shoval estimated, qualifying that, nonetheless, "the fight for it is important." 
''Even if the struggle would compel Israel to pay for certain things, for example on the Palestinian issue, Israel has to decide which policy has the higher priority; the choice may be between two bad choices." 
Shoval also opined that Obama's justification for the deal - that it would somehow hail a new era of peace for the Middle East - is fundamentally flawed. 
"Obama makes no secret of his willingness to sign an agreement which would lead the Middle East into a new balance between Iran and the Sunni camp and Saudi Arabia - in the hope, based on my opinion on illusions, that by balancing between Iranian and Saudi terrorists, these two sides will ensure that stability will return to the region."
"But this false belief will fail, as did the Arab Spring," he added. "Now the Iranians will have extraordinary monetary means, with which they will continue more strongly their hegemony in the Middle East, and it will not bring stability."
"America now thinks Iran will lead the fight against ISIS, but here it is about two negative factors - Sunni terror on one hand, Iran's Shia terror on the other."