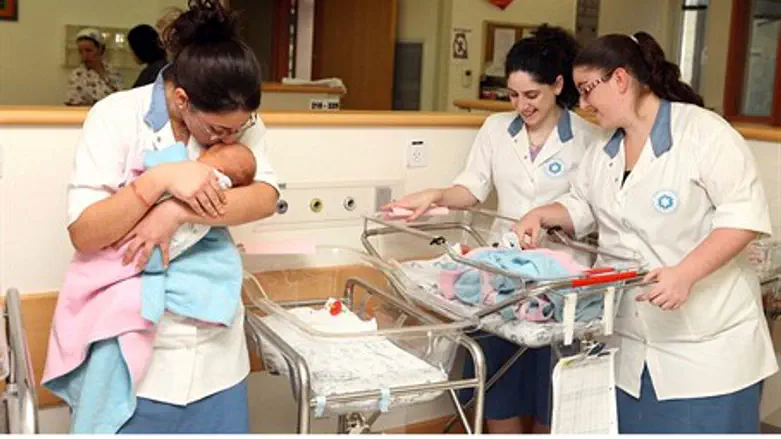 National Service nurses
Abir Sultan / Flash 90
The IDF is doing its best to discourage religious girls from entering the National Service (Sherut Leumi) track, and to encourage them to join the military, according to an educator of girls.
Bracha Goodman, who teaches 12th grade at the ulpana – or girl's religious academy – of Elkana, told Arutz Sheva that this is the second year running in which the IDF has been making it hard for girls to receive exemption from miliitary service, based on religious observance.
"We at the Ulpana educate toward National Service, but if a girl enlists to the military, she receives full support," she declared. "Unfortunately, recently we have been encountering the phenomenon in which even after a student has decided to do National Service, the army makes things difficult for her. This is the second year in which this has been happening, and my feeling and that of the girls, is that the military has discovered the high quality of the religious girls, and it is interested in them and will do everything to have them enlist."
According to Goodman, girls who graduated this year and last year signed affidavits at the Rabbinate stating that they are religious, and sent them to the IDF – yet "for some reason, the statements never arrived. Girls had to physically go to Tel Hashomer [military induction center] and had to undergo questioning and in-depth queries about Judaism and the Shemitta year. Usually, the army would find the mailed statement sufficient, and the exemption would be granted, and here they summoned the girls, they grilled them thoroughly and tried for half an hour to convince them to join the army."
The girls finally received the exemption after various elements, including Rabbi Haim Druckman, were involved. "We've had four cases of girls who had already been placed in National Service tracks, who did not receive the exemption. We kept calling the military and we were told to wait, up until the very last moment."
Goodman recommended that girls stop thinking that the mailing of an affidavit is sufficient, and take their affidavits physically to Tel Hashomer base. "This year, too, we have two girls who have still not received exemption, and they have been kept waiting in suspense for months. We call and inquire and they tell us that it takes time... It really is an unpleasant experience."
The IDF Spokesman's Unit has yet to respond to the allegations.