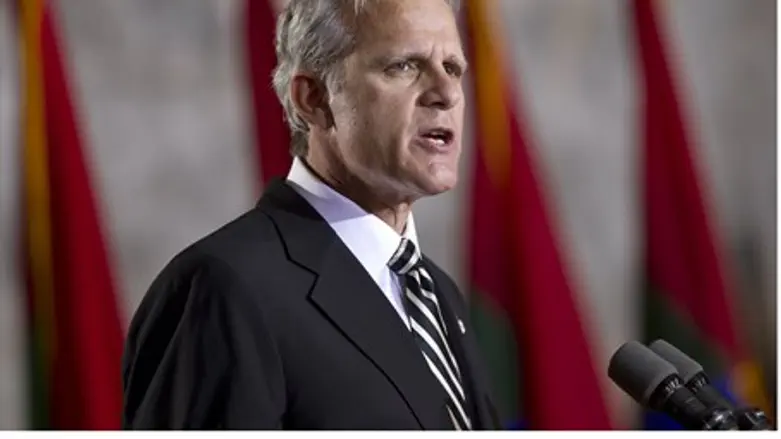 MK and former Ambassador to the US Michael Oren
Reuters
Former Israeli Ambassador to the US MK Michael Oren (Kulanu), who is a member of the Knesset Foreign Affairs and Defense Committee, responded sharply to the announcement of a final deal on Iran's nuclear program on Tuesday.
"This is a bad deal that places us in existential danger such as we have not experienced for a generation," warned Oren. "The picture from Iran in which they're burning American flags proves that the Iranian threat is not only against Israel, but is against the American nation and the entire West."
The former ambassador concluded, saying, "Israel today is at the start of a months-long struggle to prevent the approval of the deal in Congress, and we must continue to do all we can so as to defend ourselves and the future of our children."
While a senior Israeli diplomat revealed to Arutz Sheva earlier on Tuesday that the state does intend to press for Congress to oppose the deal during its 60-day review period, US President Barack Obama in announcing the deal said he will veto Congress on the issue.
Oren has been highly critical of Obama in recent weeks alongside the publication of his new book about the president, accusing Obama of abandoning the alliance with Israel.
He noted that Obama had breached several principles underpinning relations between the two states, one being "no daylight" in terms of the discrepancy in public stances between the US and Israel, as well as "no surprises" by which the US would confer with Israel before adopting new policy.
"The abandonment of the 'no daylight' and 'no surprises' principles climaxed over the Iranian nuclear program," wrote Oren. "In 2014, Israel discovered that its primary ally had for months been secretly negotiating with its deadliest enemy."