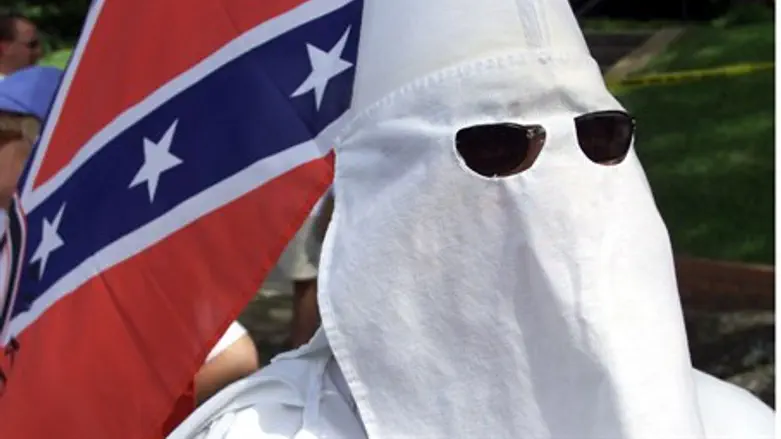 KKK Member
Reuters
Internet has fueled the modern rise in white supremacy, according to a damning study released Monday - and has led increasingly to "lone wolf"-style attacks. 
The Anti-Defamation League (ADL) released their report on the phenomenon this week, entitled "With Hate in their Hearts: The State of White Supremacy in the United States," after the devastating shooting attack in Charleston, South Carolina in June 2015. 
The findings, according to the ADL, include: 
That modern white supremacists are far more likely to be unaffiliated or independent;
that this independence is fueled, at least in part, by the anonymity afforded by the internet and forums which draw together like-minded people to encourage each other in carrying out attacks;
that most white supremacists are "ideologically motivated by a series of racist beliefs, including the notion that whites should be dominant over people of other backgrounds, that whites should live by themselves in a whites-only society, and that white people have their own culture and are genetically superior to other cultures";
that anti-Semitism is a "central component" of those beliefs;
that white supremacy is made up of a variety of subgroups, including "

neo-Nazis, racist skinheads, 'traditional' white supremacists including Ku Klux Klan groups, white supremacist prison gangs, and Christian Identity adherents";

and that white supremacists are the "

single greatest source of domestic extremist-related violence in the U.S., surpassing right-wing anti-government extremists, domestic Islamic extremists, and left-wing extremists and anarchists."
"White supremacists engage in a wide variety of activities to promote their ideas and causes or to cause fear in their perceived enemies," said Mark Pitcavage, ADL Director of Investigative Research and the lead author of the report.  "But most white supremacists do not belong to organized hate groups.  The size of the movement is considerably greater than just the members of hate groups."
The June 2015 attack has elicited horror and fascination over white supremacy in American culture, sparking a controversial ban on Confederate flags, the racist symbol shooter Dylann Storm Roof used in his manifesto. 
Roof particularly targeted Blacks, but also held derogatory views against Jews specifically - and objected primarily, of all traits, to the idea of Jewish identity.