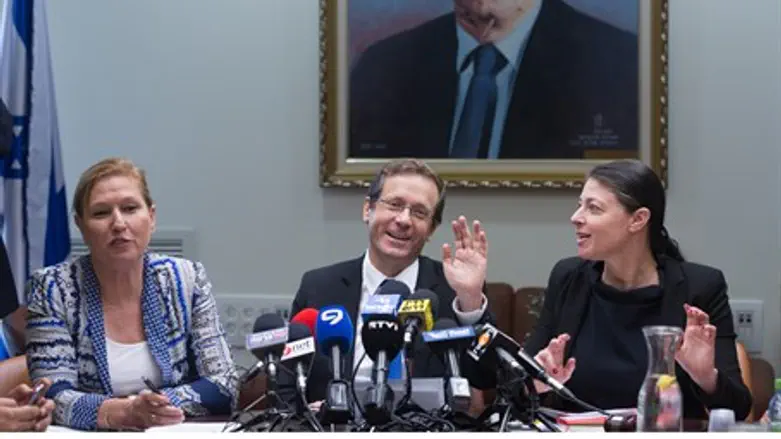 Yitzhak Herzog addresses Zionist Union faction meeting
Credit: Miriam Alster/Flash 90
With the signing of a nuclear deal with Iran imminent, Israeli officials on Monday almost unanimously denounced what many called a "horrible deal, one that will go down as a tragedy of the ages," in the words of Zionist Union/Labor head Yitzchak Herzog.
Speaking at a meeting of his party, Herzog said that Prime Minister Binyamin Netanyahu had "failed" in allowing the Iranian deal to go through by not doing "everything possible" to stop it.
Herzog did not say what he would have done differently, but he did say that "we have a long list of complaints about Netanyahu, but this is without question his worst failure. We will yet make him give an accounting for failing to force the negotiating nations to take Israel's issues into consideration."
A report by Iran's Fars news agency, quoting negotiators, said that Western countries had agreed to remove all economic sanctions from Iran, but that certain "limitations" would remain for the time being, to be removed later on when Iran verifies compliance with the deal.
In addition to Western sanctions, the report said, a UN embargo on Iran in place since 2006 on arms trading with the Islamic Republic would be removed as well, with temporary limitations placed on the arms trade to expire at some point in the future.
Any deal with Iran would have been a bad one, said Herzog, but this was a particularly bad one. "We cannot allow a moment like this to pass without having tried to influence the impending deal. I blame the terrible results of the negotiations regrading Israel on Netanyahu. This is a personal failing of his, as he preferred a political victory over our security needs and our ties with the U.S.