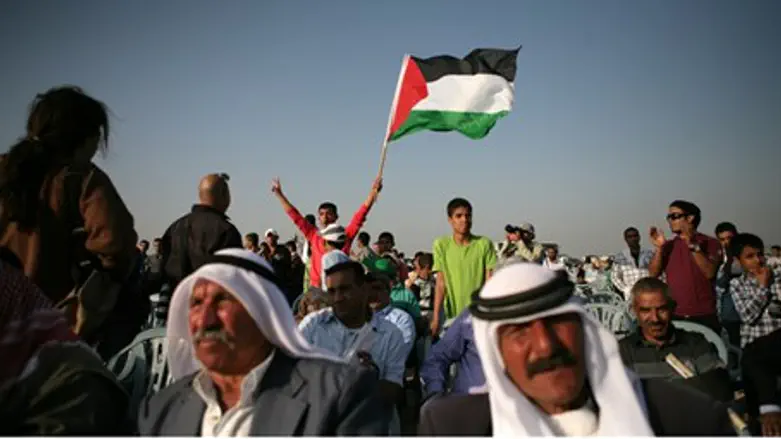 Bedouin rally in Negev against Prawer Plan (file)
Israel news photo: Flash 90
For the second time, the government is dropping – at least temporarily – a law that would regulate illegal settlement by Negev Bedouin. On Sunday, Agriculture Minister Uri Ariel pulled the latest version of the Prawer Plan from a discussion by the Ministerial Law Committee. Ariel said that he had made this decision after discussing the matter with Bedouin leaders.
"In the coming period I will conduct hearings on the law in order to develop a new and fitting framework in order to solve the outstanding issues," said Ariel. "After that we will push the law forward."
Meanwhile, the Arab Joint List party issued a threat Sunday, saying that if the government tried to implement the program, it would cause "unprecedented" unrest, and be seen as a "declaration of war" against Israeli Arabs.
About 260,000 Bedouin live in Israel, mostly in and around the Negev in the arid south. Members of this minority regularly settle on land they do not own, and then violently refuse to evacuate it. The Prawer Plan would have offered some of the the Bedouin generous compensation for land they had grabbed, and relocated them to communities that could receive proper services from the state.
The plan, which was first proposed in 2012, gives Negev Bedouin 180,000 dunams (45,000 acres) of state land for free, additionally granting them "compensation" for the state land many Bedouin are currently squatting on. Arab and left-wing opposition to the bill focuses on it moving 30,000-40,000 Bedouins from illegal outposts and villages, and demolishing 40 illegal settlements.
The bill passed a preliminary ministerial vote in 2013, and was debated in the Knesset at the end of that year for its second and third readings before then-Minister without Portfolio Benny Begin decided to scrap the bill. Both right-wing and left-wing MKs expressed strong opposition to the bill – the latter because it limits Bedouin to specific areas and will require the relocation of thousands of Bedouin from dozens of illegal settlements, and the former because it is considered by many to be too generous in granting large parcels of land to them.
The Bedouin leadership has refused to accept the plan, which they claimed violates their rights. According to nationalists, this is because the Bedouin know that they have more to gain by continuing to grab land by force.
The Joint List of Arab parties on Sunday issued a statement asking Prime Minister Binyamn Netanyahu to dump the bill altogether. "The law's purpose, according to its backers, is to 'regulate' Bedouin settlement, but in reality will force them to give up hundreds of thousands of acres of Arab land, and the uprooting of over 40 'unrecognized' Arab villages. This would be considered an 'act of war' by you against the Arab public, and will bring with it unprecedented civil resistance," the party said.