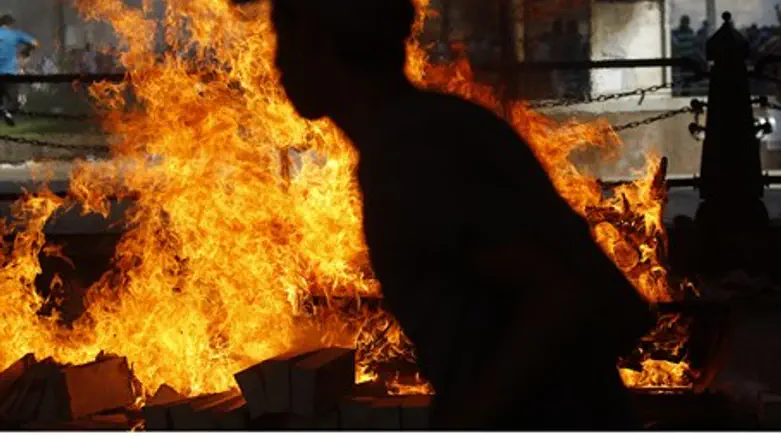 Explosion in Cairo (file)
Reuters
Islamic State (ISIS) terrorists claimed responsibility for a lethal car bomb attack on the Italian consulate in central Cairo on Saturday, in an explosion that killed one Egyptian and left ten others wounded according to a health ministry spokesperson.
The blast nearly completely destroyed the main entrance to the consulate, shattering windows and flooding the building by causing water pipes to burst. It was possible to hear the blast from various neighborhoods around the capital city.
According to the state news agency MENA, two policemen were among the ten wounded.
In a message online, ISIS wrote, "through God's blessing, Islamic State soldiers were able to detonate a parked car bomb carrying 450 kg of explosive material on the headquarters of the Italian consulate in central Cairo."
"We recommend that Muslims stay clear of these security dens because they are legitimate targets for the mujahideen's (jihadists') strikes," it added, warning of future attacks on sites like the consulate.
ISIS has targeted Egyptian soldiers and policemen up until now, with the attack on the Italian consulate constituting the first attack on a Western target.
Italian Foreign Minister Paolo Gentiloni reported that no Italian citizens were wounded in the blast, adding, "Italy will not be intimidated."
Egypt has been engaged in a fierce struggle against ISIS forces in Sinai, where the Ansar Bayt al-Maqdis recently swore allegiance to ISIS and changed its name to Sinai Province.
The terrorist group has been responsible for several massive lethal attacks, including a multi-pronged assault earlier this month that left 50 Egyptian soldiers dead.