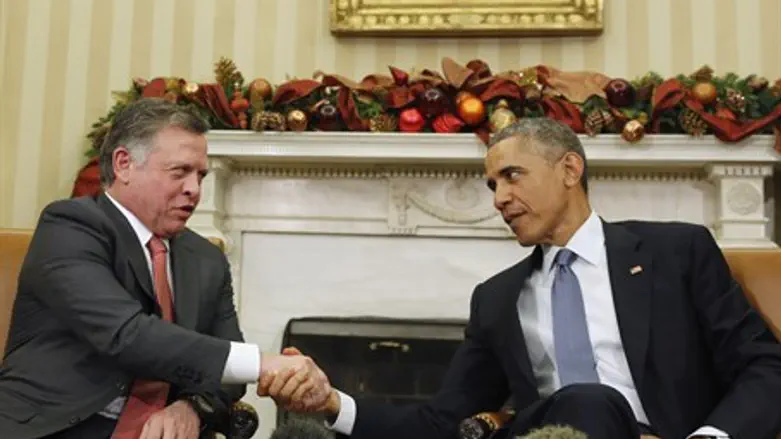 Obama and Jordan's King Abdullah (archive)
Reuters
American lawmakers on Tuesday approved legislation that would ramp up military cooperation with Jordan, including accelerated arms sales to a Middle East ally contending with growing threats from Islamist extremism, AFP reported.
Jordan has become a focal point in the fight against the self-described Islamic State (ISIS) because the Hashemite kingdom borders Syria and Iraq, two nations where large swathes of land have been claimed by ISIS extremists.
U.S. forces are currently training a small group of vetted Syrian rebels in Jordan. A Jordanian pilot captured by ISIS in December was burned alive on video, in one of the jihadist group's most brutal executions.
The House of Representatives passed the bill by voice vote and it now heads to the Senate for consideration.
House Foreign Affairs Committee chairman Ed Royce said the measure sends a "strong message of support" to a critical partner at a vital time.
"Jordan sits on the front lines of the fight against ISIS and a refugee crisis in Syria where millions have been displaced," Royce said, according to AFP.
"As a longtime key partner for peace and security in the region, it is important the U.S. support Jordan as it confronts these security challenges," he added.
House Speaker John Boehner, who visited Jordan in March, added that the legislation would "strengthen our ties with King Abdullah, a good friend and solid partner in the region."
The measure adds Jordan, for a period of three years, to a list of countries that benefit from "expeditious consideration" of contracts for U.S. arms exports, benefits currently provided to members of the NATO alliance along with Australia, Israel, Japan, New Zealand and South Korea.
In February Washington announced its intention to increase overall assistance to Jordan from $660 million to $1 billion annually for the 2015-2017 period.
According to the UN High Commissioner for Refugees, as of June there were 629,000 registered Syrian refugees in Jordan, most of whom live outside refugee camps.
Jordan responded to the murder of its pilot at the hand of ISIS by executing two jihadist prisoners it had held, and later launched airstrikes against dozens of ISIS targets.
Last week reports surfaced that Jordan was preparing to create a security zone in southern Syria to fend off a possible jihadist advance across the border, in what would be the first such humanitarian "buffer zone" established in the civil war-torn country.