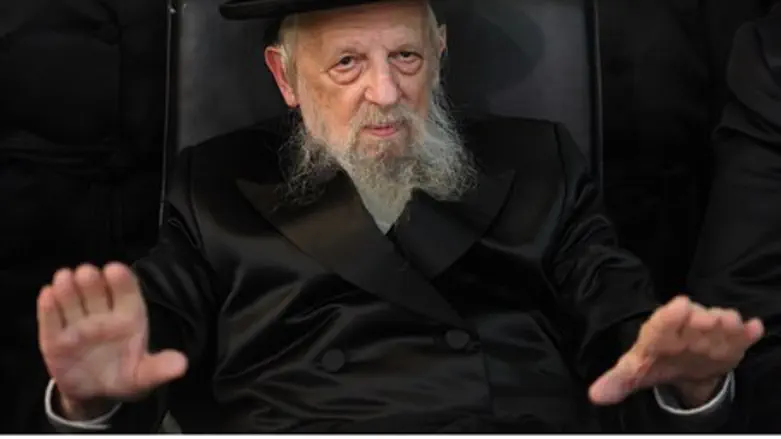 Rabbi Eliezer Hager
Yaakov Naumi/Flash 90
The Grand Rabbi (Rebbe) or "Admor" of the prominent Seret-Vizhnitz hassidic sect, Rabbi Eliezer Hager, passed away Tuesday aged 91.
Rabbi Hager died of a heart attack at his home in Haifa's Ramat Vizhnitz neighborhood. Funeral details have not yet been publicized.
The rabbi, a scion of one of the most prominent hassidic dynasties, was born in Romania, and took over leadership of the Vizhnitz sect after the passing of his father, Rabbi Baruch Hager.
Rabbi Eliezer Hager made aliyah to Israel in 1947, and was promptly arrested by the British occupying forces and detained at the Atlit detention center.
After being freed from prison, the young Hager - then a yeshiva student - enlisted in the local religious division of the Hagana pre-state Zionist militia. He saw active combat in the War of Independence, including fighting around Kibbutz Ramat Yohanan, and was wounded during one battle.
His commanders famously praised his "enthusiasm, courage and sacrifice."
In 1951, he married Chaya Tzirel, the daughter of one of the generation's leading Ashkenazic rabbis, Rabbi Shalom Ozer Berlin. 
One year after his father's passing, he was appointed as the Vizhnitz Rebbe, or Grand Rabbi, himself.
Rabbi Hager had been suffering from ill health for a number of years before his passing.
Two years ago, he was hospitalized with back problems and from then on his physical health steadily deteriorated.
Since then, he rarely appeared in public, with most of the day-to-day leadership tasks handed to his son and likely successor, Rabbi Yaakov Hager.