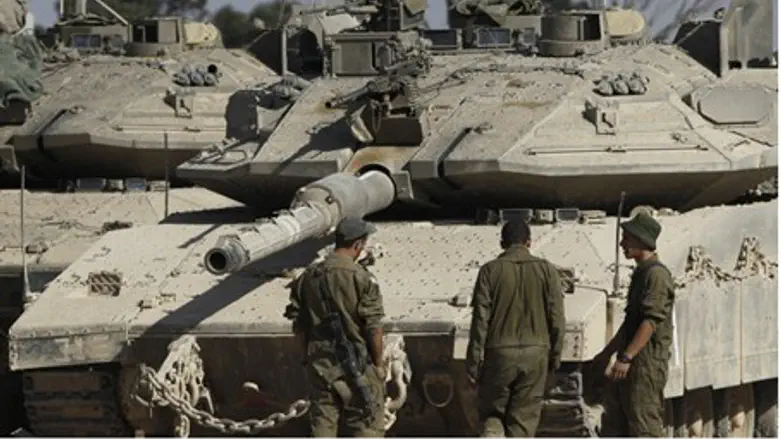 IDF tank outside Gaza (file)
Flash 90
Amnesty International on Tuesday launched a Gaza Platform "online tool" which claims to "map Israeli attacks in Gaza" during last summer's war - according to the Jerusalem-based research institute NGO Monitor, the tool is another slander against Israel without credible research backing it up.
The "online tool" tracks Israeli strikes in the Hamas enclave during the war based on location and gives a breakdown of attacks over the course of the 50-day war. But NGO Monitor argues the Platform "substitutes interactive graphics and digital technology for substantive fact-finding."
"The Platform is window dressing and fancy packaging for the NGO's lack of credible research methodology and absence of military and legal expertise," accused NGO Monitor in a statement.
NGO Monitor President Prof. Gerald Steinberg warned that "Amnesty has a long history of exploiting human rights to single out and demonize Israel. Indeed, behind the colorful graphics and fancy maps lie the familiar baseless and distorted allegations from political advocacy NGOs Amnesty, Al Mezan, and Palestinian Center for Human Rights."
"The Platform also ignores Hamas' war crimes against civilians in Israel and Gaza, and represents a disproportionate allocation of resources towards attacking Israel while far more deadly conflicts rage across the globe."
In a similar vein the UN published a map of Gaza strikes during the war, which the IDF exposed as being deceitful in ignoring the true picture of how Hamas embeds its terrorist infrastructure in civilian centers to increase casualties and limit Israeli operational freedom.
A tool with an agenda
NGO Monitor revealed that the new Platform takes publications by anti-Israel NGOs Al Mezan and Palestinian Center for Human Rights (PCHR) and presents them with no independent verification of the claims.
Likewise the context of warfare against Hamas, Islamic Jihad and other terror groups is completely absent from the "tool," and the more than 4,000 rockets fired from Gaza at Israeli civilians is also entirely ignored.
Amnesty International partnered with the group Foreign Architecture headed by Eyal Weitzman for the Platform.
Weitzman formerly was a board member of the radical leftist NGO B'Tselem, and during the 2009 counter-terror Operation Cast Lead signed a petition urging the UN Security Council and the EU to impose sanctions against Israel, notes NGO Monitor.
NGO Monitor also accused the Platform of distorting the laws of armed conflict "by inventing legal standards and leveling conclusions solely based on the effects of particular strikes. ...Essential information - location of enemy forces and military targets, nature of combat, and intelligence available to commanders at the time of the fighting - is entirely missing."
"Contrary to Amnesty's claims, the information in the Gaza Platform is not evidence of any alleged 'war crimes' or 'patterns in the attacks' and cannot credibly be used for investigations into the 2014 Gaza conflict," continued Steinberg. "While visually exciting, these sorts of online tools have very limited utility in determining whether violations actually occurred."