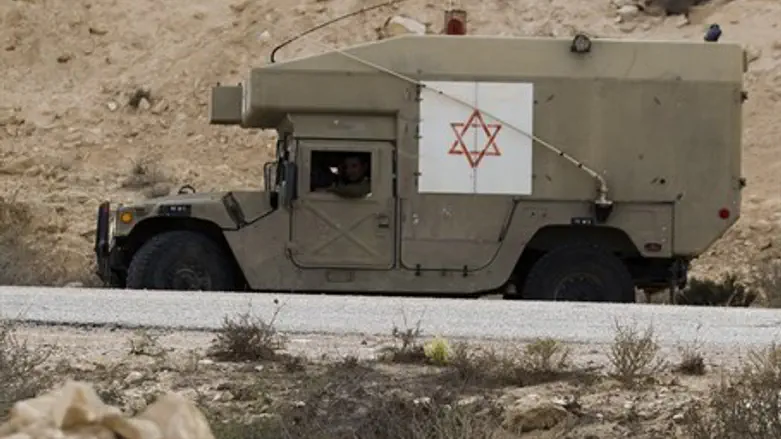 IDF ambulance (file)
Reuters
Nine additional suspects in an ambush by Israeli Druze on an IDF ambulance in June were arrested overnight Monday, in a joint operation between the Border Police and local and national units of the Israel Police.
All nine are from villages in the north close to Majdal Shams, the Israeli Druze town in the Golan Heights where the attack unfolded. 
"This operation is part of the policy of Northern District Commander Zohar Dvir: to bring to justice all those who took part in that severe incident," a spokesman for the Israel Police stated to Channel 10 on Tuesday morning. 
Dozens of Israeli Druze surrounded an IDF ambulance carrying two wounded Syrians to Ziv Hospital in Tzfat two weeks ago, throwing rocks and mobbing the ambulance in an ambush that was apparently premeditated. One of the two Syrians died from wounds sustained in the attack, after being dragged out of the ambulance and repeatedly struck with rocks and pieces of wood.
Days later, ten Israeli Druze were arrested for their involvement in the attack, which has been widely described as a "lynching." 
Several of those arrested are suspected of having attacked the ambulance near Majdal Shams in the Golan, while others are thought to have attacked another ambulance in a previous incident near Hurfesh.
Later, officials involved in the case revealed that an IDF soldier may have passed information on to Druze villagers regarding the ambulance's occupants and route and thereby set off the attack.
Druze residents apparently believed the men transported in the ambulance were jihadist fighters, who have been threatening Druze communities in southern Syria.