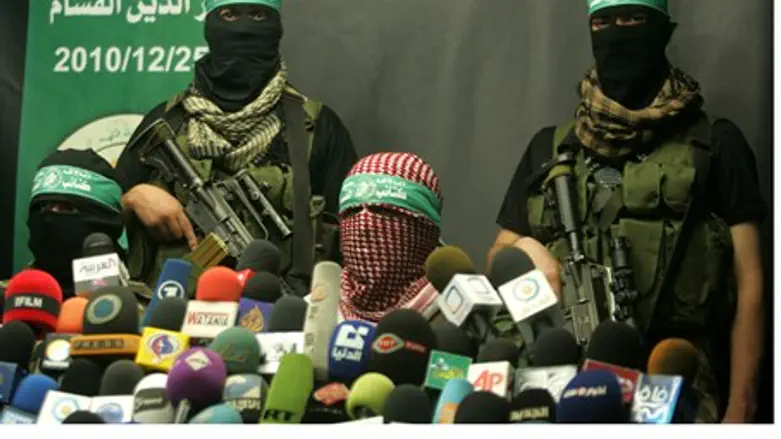 Hamas press conference (file)
Mohammed Othman/Flash 90
After last Friday admitting Islamic State (ISIS) is active in Gaza after months of denial, Hamas has launched a string of criticism against the jihadist group indicating the deep-seated fears Hamas has that ISIS will realize its threats to seize Gaza.
Faiz Abu Shamala, a journalist for the official Hamas paper Palestine, on Sunday tried to harm ISIS's image by posing a series of questions.
"Why doesn't Daesh attack international naval ships on the Red Sea and the Israeli tourists in Sharm el-Sheikh?," questioned Shamala, using an Arabic acronym for ISIS. "Why does Daesh attack the Palestinian fighters and not the collaborators with Israel?"
"Why doesn't Daesh start a war front against Israel from the West Bank which could more greatly affect Israel than from the Gaza Strip? Why does Daesh spread a poster calling for Christians to leave Jerusalem but doesn't publish a similar poster against the Zionists? Why doesn't Daesh act against Israel from the Jordan border and (why) doesn't it attack the Jordanian regime even as the Jordanian air force strikes Daesh targets?"
Shamala posed an answer to his own questions with a conspiracy theory claiming that Israel is using ISIS to destroy Hamas, after being "unable" to destroy Hamas in direct warfare.
ISIS recently threatened to overthrow Hamas in a video message, expressing animosity to the Gazan offshoot of the Muslim Brotherhood for not fully implementing Islamic Sharia law and for being too "moderate."
It is believed that ISIS has several hundred to a few thousand active members in Gaza.
The ISIS affiliate in Gaza has worked in tandem with the Sinai Province branch of ISIS, which just last Friday fired rockets at southern Israel from the Sinai.
Sinai Peninsula has also attacked Hamas in coordination with its Salafist affiliates in Gaza; in May it claimed launching two "bombs" - reportedly 82 mm mortar shells - at Hamas posts in Gaza.
The ISIS presence in Gaza goes back to as far as last summer, when members of the group took part in Hamas's terror war against Israel. However, until recently, Hamas tried to play down the group's presence so as to hush up challenges to its iron rule in the coastal enclave.