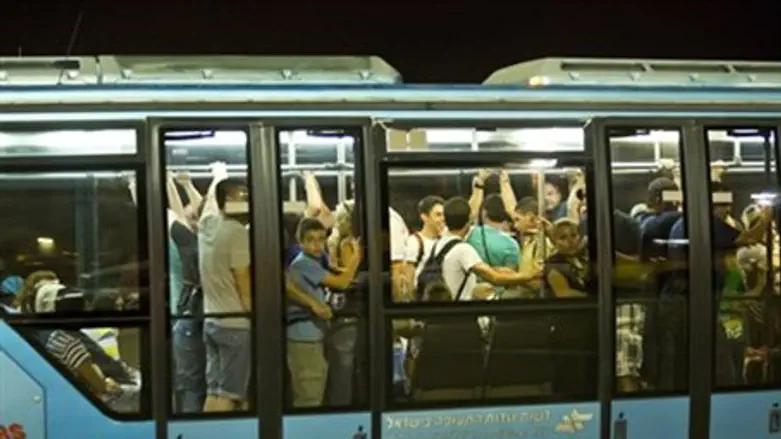 Bus (illustrative)
Flash 90
Although he has come out against the idea of public transportation operating on Shabbat, a scheduling change instituted by Transportation Minister Yisrael Katz is likely to make it much easier for buses to roll on the holy day. According to research by the News1 Hebrew-language site, Katz has canceled a long-standing Ministry policy that requires bus drivers to stop working within 30 minutes of the beginning or ending of Shabbat.
Under the new rule, drivers will have up to the last minute to park their vehicles – making ir much more likely that trips will continue into Shabbat, due to traffic, neglect, etc.
The new rule is identical to the previous one, except that it replaces "30 minutes before or after Shabbat" with the phrase "before or after Shabbat." That, said News1, was likely to be interpreted by drivers as being able to work until Shabbat actually comes in, or begin driving as soon as the sun goes down (when it is still technically Shabbat). The rule change, said the site, could be the first serious breach of the status-quo policy against public transportation on Shabbat.
Commenting on the change, the Ministry said that the old rules were "unclear to many drivers," and that the new one is much clearer. The change was instituted despite appeals by the Movement for a Jewish State, the site said.
A Ministry spokesperson refused to comment on who was behind the change. According to the spokesperson, the decision was made by "lower level bureaucrats," and Katz had no knowledge of it. Katz has not responded to requests for comments.