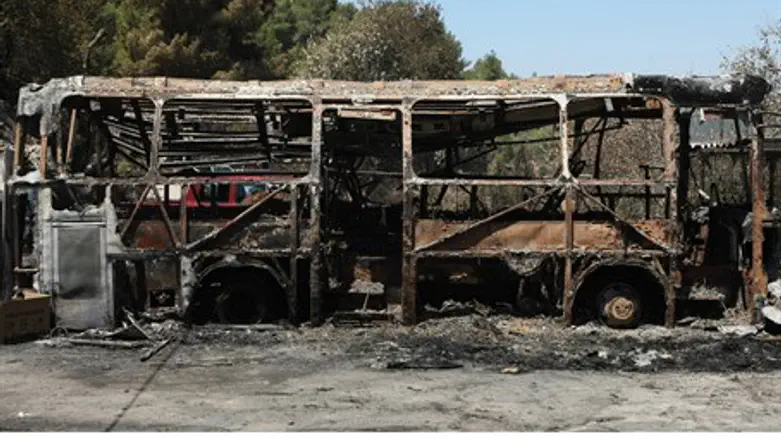 Bus burned by fire (illustration)
Kobi Gideon/Flash 90
A potential tragedy was narrowly avoided on Thursday afternoon, as a summer camp bus with 50 children on board caught fire.
Fortunately the driver was alert and noticed the smell of smoke, upon which he pulled over at Beit Raban Intersection near Yavne in the coastal region.
He managed to get all 50 children off the bus, just before the entire vehicle went up in massive flames, reports Channel 2.
Firefighter and rescue crews from the southern district arrived on the scene, where they saw flames shooting up from the rear section of the bus. After ensuring that the bus was empty of all passengers, they worked to put out of the blaze and managed to gain control of it.
An investigation into the circumstances of the fire has been launched.
One of the mothers of the children on board was quoted by Channel 2 recalling how her crying son called her from the bus.
"He told me 'mom, the bus is on fire,'" she described. Her son took his sister and ran from the bus.
"He said to me 'it's lucky that we smelled (the smoke), otherwise I wouldn't be talking with you,'" recalled the mother. "I tried to calm him down and find out what happened."
The bus company released a statement reading: "the incident is being checked by a fire investigator. The driver and passengers smelled a burning smell, the driver resourcefully stopped the bus and ordered (the children - ed.) to get off and move away from the bus. Apparently something caught fire in the engine, but (the full details are - ed.) still unknown. The bus was in proper condition and was checked repeatedly, and it has all of the permits."