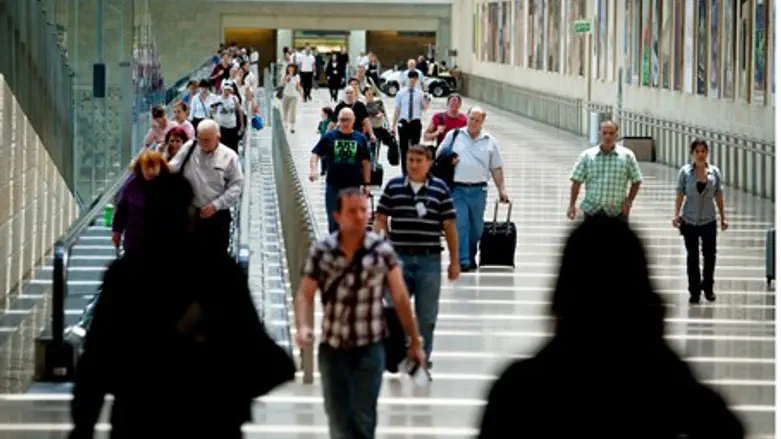 Ben-Gurion International Airport (illustration)
Flash 90
A rabbi from the north of Israel, who was distanced from his city due to sexual abuse complaints filed against him by several women, was arrested on Thursday morning as he was on his way to Ben-Gurion International Airport.
The rabbi, who was the dean of a yeshiva and whose identity has not been revealed, was taken in for investigation by the northern district police. A request to extend his detention will be heard on Thursday.
Women who arrived to consult with the rabbi have complained to police, with one claiming he sexually abused her several years ago and another charging him with rape.
A number of high-ranking rabbis had requested that the rabbi step down due to the complaints against him, and he recently gave in to the demands and stepped down as dean of the yeshiva that he founded, and likewise distanced himself from its associated institutions.
The rabbi also was a community rabbi, and distanced himself from his city until the accusations against him were resolved in response to the request of the rabbis.
A group of rabbis consisting of Tzfat (Safed) Chief Rabbi Shmuel Eliyahu, Rabbi Avraham Engel and Rabbi Gad Cohen investigated the complaints filed against the rabbi accusing him of improper conduct.
After thoroughly examining the issue and meeting with additional sources, psychologists and professional advisers, the rabbis asked him to suspend himself. He has been forbidden from coming in contact with the public, including his students.
The rabbi denied that he had committed any improper conduct, and said in a statement that several days ago he didn't feel well. 
Apparently, he "underwent a catheterization of his heart and since then has been in complete rest due to extreme weakness from the medical treatment," and as a result has even been left unable to speak.
The statement said he would render his version of the events once he felt better, although it remains uncertain how his attempt to leave Israel fits with the claims of extreme weakness and promise to deliver his version of events.