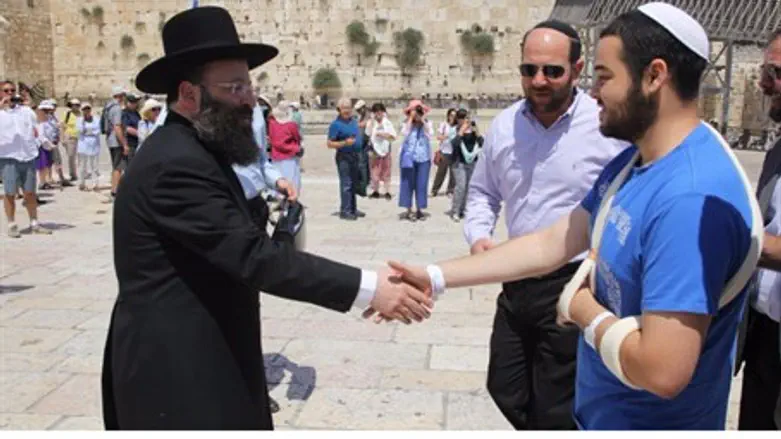 Raz Bibi at the Kotel
Public Relations
Border Patrol officer Raz Bibi, who was critically wounded when an Arab terrorist stabbed him at the Damascus Gate of Jerusalem's Old City two weeks ago, was released from hospital on Wednesday and visited the Kotel (Western Wall) to offer a prayer of thanks for his miraculous recovery.
Bibi arrived at the Kotel Plaza to find a moving surprise, as members of his unit greeted him to clap and cheer for his recovery and his bravery. Before losing consciousness Bibi managed to shoot and kill the terrorist who stabbed him. Video of the rousing welcome can be seen by clicking the image below.
At the Kotel, the 20-year-old Bibi was met by the Kotel Chief Rabbi Shmuel Rabinowitz, who together with the soldier laid tefilin (phylacteries) and said the gomel blessing recited by those who have survived a life-threatening experience.
Noting on the welcoming by Bibi's comrades, Rabbi Rabinowitz said, "I was very happy to see this special military unit that stood behind the door at the hospital since he (Bibi) was wounded, and supported him and prayed for his recovery together with all the people of Israel."
"It (the unit) is once again with him, this time with thanks for the great miracle that happened to him and his surprising recovery against all the predictions," the rabbi said to the soldiers.
After the prayer of thanks, the warriors in Bibi's unit came together to sing and dance along with their friends, celebrating the amazing recuperation of their comrade.
The stabbing attack Bibi survived was one of the first that kicked off a recent string of terror attacks which have coincided with the Muslim fast month of Ramadan that started in mid June.
The most recent victim from the wave of attacks was 26-year-old Malachi Rosenfeld, who passed away from critical wounds sustained in a shooting attack on Monday night in which he and three others were targeted outside of Shvut Rachel north of Jerusalem.