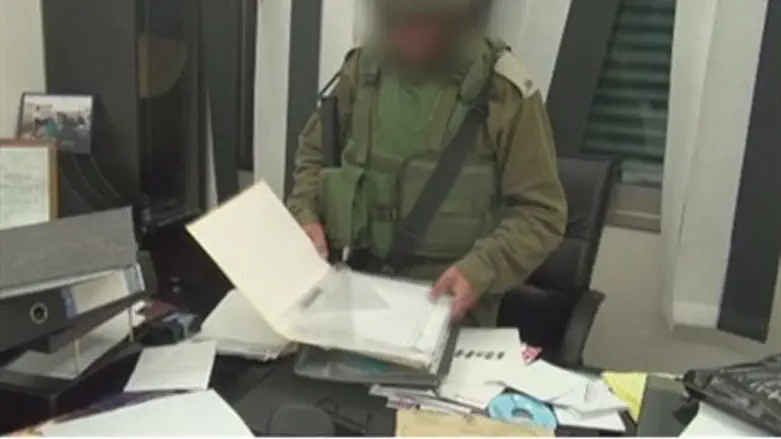 IDF in terror arrest.
IDF Spokesman
Israel's security forces have uncovered a large-scale effort by Hamas to create an operative terror infrastructure in Samaria. About 40 terrorists have been arrested in Shechem (Nablus) and its environs in recent months.
The matter was under a gag order but has now been released for publication.
Some of those arrested are senior members of Hamas who have been jailed several times in the past.
An armed cell was also discovered, though it was still in its preparatory stages and had not yet carried out any terror attacks.
The cell was directed by the Hamas leadership in Qatar. A senior operative known previously mostly as a Hamas spokesman, Husam Badran, sent hundreds of thousands of dollars to finance its activities.
The network was planning to establish a quasi-governmental infrastructure to take care of education, finance, law, media, intelligence, propaganda, charity, stipends to jailed Hamas terrorists and preparations for a military offensive.
The network's members took various precautionary measures including the use of nicknames and messengers, as well as secret meetings.
Badran gave instructions to the network through e-mail. The cash was transferred to the group by buying gold in Jordan and transferring it to Samaria, with the aid of Anan Ali Fatuh, a resident of Shechem who deals in gold, and his partner in a Shechem jewelry store, Samih Aliwi.
Money and gold items from Aliwi's store that were intended for the operation of the network's HQ were seized by the ISA. Their worth is estimated at over $1 million. Several vehicles were also seized.