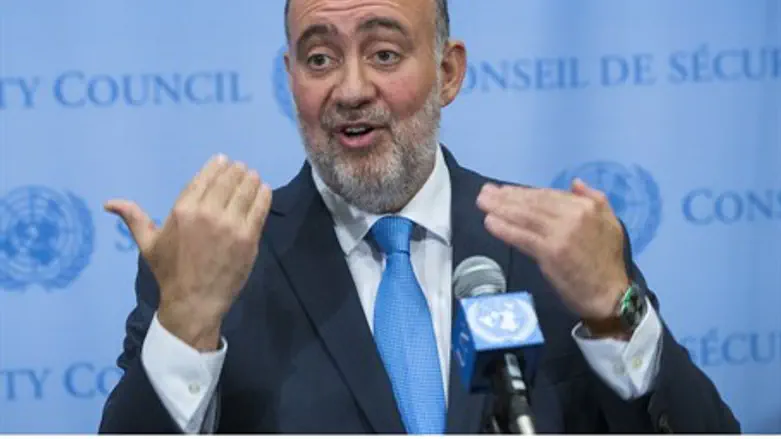 Israeli UN Ambassador Ron Prosor
Reuters
In the wake of a spate of recent terror attacks culminating in the death of Malachi Moshe Rosenfeld on Tuesday, Israeli ambassador to the UN, Ron Prosor, sent a strongly worded letter to UN Secretary-General Ban Ki-moon, demanding his condemnation.
"In the two weeks since the beginning of Ramadan...there has been a dramatic increase in attacks against Israelis.Each day seems to bring with it news of a shooting attack, or a stabbing. These attacks are part of a global surge of terrorism," Prosor wrote.
"We have all been witness to the horrific terror attacks of last week in France, Tunisia, and Kuwait, which you condemned 'in the strongest terms,'" he continued.
"We join in your call that 'those responsible for these appalling acts of violence must be swiftly brought to justice' and that 'these heinous attacks will only strengthen the commitment of the United Nations to help defeat those bent on murder, destruction and the annihilation of human development and culture.'"

"I expect you to condemn the terror attacks in Israel in an equally decisive manner," Prosor said pointedly. "Terror is terror, no matter where it takes place, or who is harmed. The people of Israel deserve the same level of concern and empathy as any other people in the world."
Placing blame for the attacks squarely on the Palestinians, Prosor asserted, "These attacks are a direct result of incitement by the Palestinian Authority in the media and in its education system."
"Even after this latest incident, the leadership of the PA remains silent, failing to condemn the murder of innocent people."
Prosor concluded by calling on Ban as well as the UN Security Council to immediately condemn the recent terrorist attacks as well as urge the Palestinian Authority to denounce these latest attacks and terrorism in general.