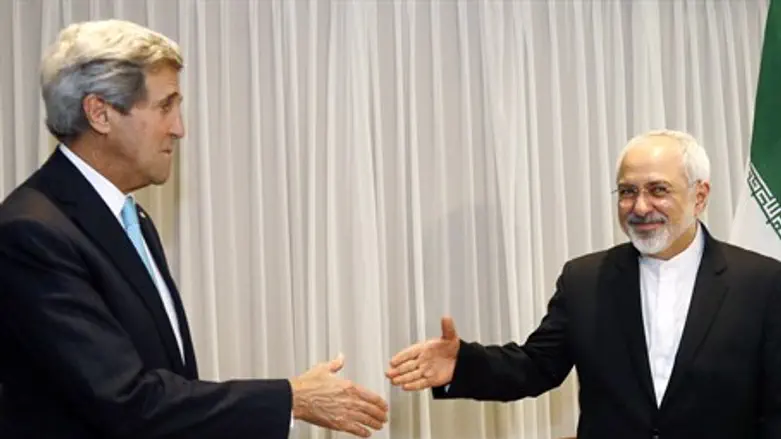 John Kerry, Mohammad Javad Zarif
Reuters
The June 30 deadline on talks between world powers and Iran over the Islamic regime's clandestine nuclear program rolled around on Tuesday with no conclusion, as the two sides were forced to extend the deadline to July 7.
An announcement on the extension of talks was released by the US State Department, adding that Iran has allegedly reduced its stockpile of low-enriched uranium to 7.6 tons after having been at 8 tons and in danger of breaching the interim agreement signed in November 2013.
The two sides apparently remain at loggerheads, after a senior US official admitted Sunday the talks would indeed breach the deadline.
"Given the dates, and that we have some work to do...the parties are planning to remain in Vienna beyond June 30 to continue working," said the official on condition of anonymity, reports the Associated Press.
An extension on talks to July 9 is possible as stipulated in prior agreements. If a deal is reached by that later deadline, Congress would then have 30 days to review the deal and vote on whether or not to uphold it.
If a deal is not reached by July 9, Congress would instead be given 60 days to review a deal when it is reached, thereby allowing Senators greater freedom in gathering support against it, and greater leeway in scrutinizing the deal that even US President Barack Obama has admitted will allow Iran to build a nuclear bomb within several years.
The major sticking points preventing the sides from meeting the deadline appear to be Iran's insistence that it will not allow inspectors in to examine covert nuclear facilities, and its demand to have sanctions lifted immediately upon a deal being signed.
Other issues include having Iran come clean on the potential military aspects of its nuclear program in recent years, and the intention stated by senior Iranian officials that the state will use advanced centrifuges after a deal is signed, a move which would allow it to obtain a nuclear arsenal within weeks.
Apparently the US State Department is concerned about Iranian Supreme Leader Ayatollah Ali Khamenei's recent statements saying inspectors won't be allowed in to covert facilities, as indicated by a warning delivered by a senior US official on Monday, reports the New York Times.
The official said that the final deal "has to be based on the Lausanne parameters. Period," in a reference to the interim agreement signed two months ago in Switzerland.
Stressing the message, the official then had an aide repeat the message in Farsi.
"No one is talking about a long­term extension" of the June 30 deadline, according to the official, who spoke during a break in nuclear talks during which Iranian Foreign Minister Mohammad Javad Zarif was in Tehran to be briefed regarding his course of action.
Zarif was expected to return Tuesday, and reportedly Iranian atomic energy organization head Ali Akbar Salehi, who has recently been absent from talks amid flailing health, will be accompanying Zarif.