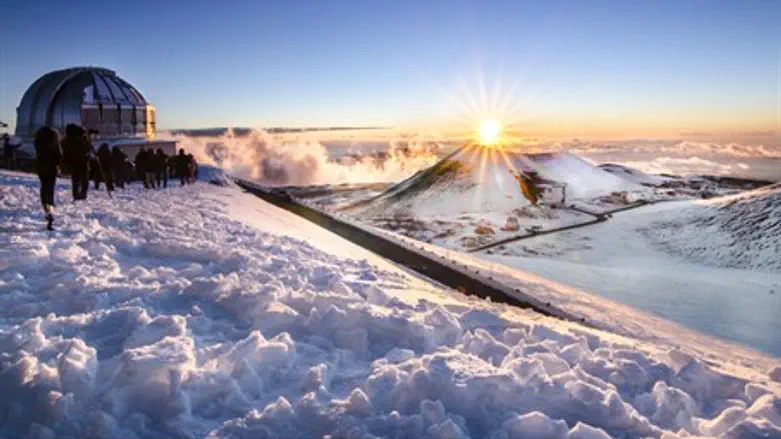 Observatory on Mauna Kea, Hawaii
Thinkstock
There is trouble in the tropical paradise of Hawaii, as a culture clash pits natives defending a mountain on whose summit their ancestors believed "gods" dwelled against astronomers hoping to build the world's best telescope.
Mauna Kea stands a full 14,000 feet above the ocean and more than six miles above the sea floor, making it the tallest mountain in the world from base to peak. But a new $1.4 billion telescope at the summit has the island divided, reports the Washington Post on Tuesday.
Several smaller telescopes have already been built on the peak, and natives have protested them as well - but the fight against the new telescope is of a whole new scale, as is the telescope.
The Thirty Meter Telescope (TMT) as it has been termed for its massive diameter will see 100 times further and more clearly than any other telescope to date. It is funded by institutions in the US, Canada, China, India and Japan, aside from the Gordon and Betty Moore Foundation in San Francisco.
Controversy has been gripping the island state, as charges of religious fanaticism by the natives are heard on one side, and cultural colonialism by the scientists is voiced on the other side.
While native Hawaiians and Pacific Islanders make up only 10% of Hawaii's population, their fight for the site has galvanized all populations.
On the one hand, the project will bring jobs, tourism, an annual lease of $1 million, and potential breakthroughs in the field of astronomy.
However Kealoha Pisciotta, a native Hawaiian activist who is contesting the TMT's permits, said the mountain is considered by native lore to be where the sky and earth separated to form the heavens, and where the mother and father who founded the Hawaiian race first met.
Over 250 shrines and burial sites dot the mountain, and in the past only high chiefs and priests were allowed to ascend to the summit of the mountain.
Construction on the telescope project began last fall, but in early April hundreds of protesters gathered to block work crews. Over 30 of the protesters were arrested, causing more protests and eventually leading to a two month postponement on construction.
Last week construction was to resume, but again hundreds of protesters gathered to block work vehicles from going up the mountain. Construction was delayed again, and on Tuesday morning the road was still closed as crews tried to clear impediments set up by the demonstrators.
Hawaii's Supreme Court is to hear arguments in a case challenging the state-awarded building permit for the telescope in August, at which point possible paths to resolve the issue may be discussed.