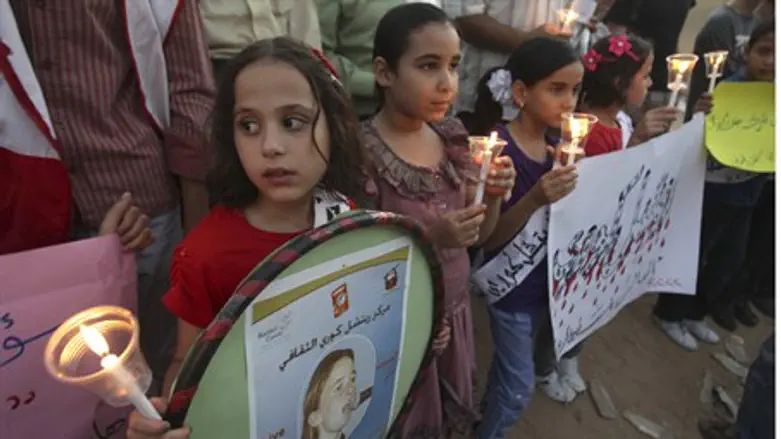 PA children protest the Israeli court's rulin
Reuters
Could the next cultural storm be on the horizon? 
After the Al Midan Theater's play "A Parallel Time" was exposed as being inspired by the life of terrorist Walid Daka, nationalist activist Shai Glick told Arutz Sheva of a second controversial play readying for performance at another state-sponsored theater. 
The play, "My Name is Rachel Corrie," on the life of an American who was killed during a confrontation with the IDF in Gaza, will be performed at the Jaffa Theater. 
Addressing Corrie's backstory and her attempts to prevent IDF demolitions in Rafah, Glick refused to call her a human rights activist, instead an "anarchist" whose activities bordered on terrorism. 
The play, based on Corrie's diary entries, has been criticized as oversimplifying the Israeli-Palestinian conflict, and describing Corrie as someone who wanted to exercise good in the face of great evil, i.e. the IDF. 
"There is a minority of a few percent who believe the IDF is bad, and I have no intention of preventing them from expressing or holding performances that express that, but they should do it with their own money and not be financed by the state," Glick argued. 
Glick has already called on Culture Minister Miri Regev to turn her attention to the fact that the Jaffa Theater is funded by her ministry.
"I demanded that she not allow a theater that is being budgeted by her office to perform a play that gives legitimacy to activities against the IDF, activities that bring about killing and terrorism and do not promote peace and coexistence, rather the opposite."
"She's looking into it and I trust her and I hope the Attorney General sticks his nose in his handkerchief instead of trying to eliminate any move against terror-supporting performances," Glick added. 
The activist dismissed the likely protests of left-wingers and artists should the Culture Ministry stop funding the theater, saying that "anyone can perform whatever show he wants, even a terrorist. We are a democratic country, unlike our neighbors."
That, however, did not mean that the state was obligated to fund such performances, Glick argued. 
"We are a democracy that is able to withstand even extreme statements, but there is a difference between withstanding and financing."