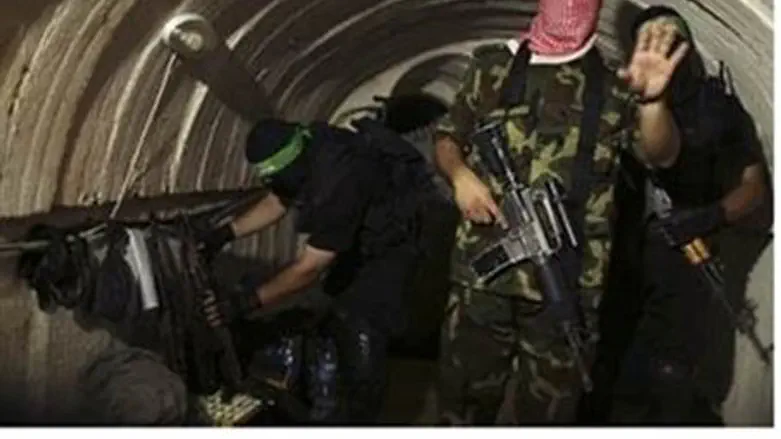 Hamas terrorists inside terror tunnel (file)
Reuters
Almost one year has passed since Operation Protective Edge, in which the IDF pushed into Gaza and destroyed a vast network of tunnels used by terrorists to infiltrate Israel.
Members of the Al Aqsa Martyrs' Brigade, which is the armed wing of the Fatah organization, chose this time to carry out some psychological warfare, and hosted a Iranian Arabic-language television reporter inside what they said is a new tunnel that they have dug.
The terrorists, whose orgainzation is headed by Palestinian Authority head Mahmoud Abbas, claimed that the tunnel is nearly three kilometers long and that it extends into Israeli territory.
The accompanying video from the Iranian report begins with footage of the IDF blowing up tunnels in Gaza in Operation Protective Edge, and of a funeral in Gaza. The reporter is then seen being led blindfolded to the tunnel, and after an interview with a masked terrorist she is seen inside the tunnel with the terrorists.