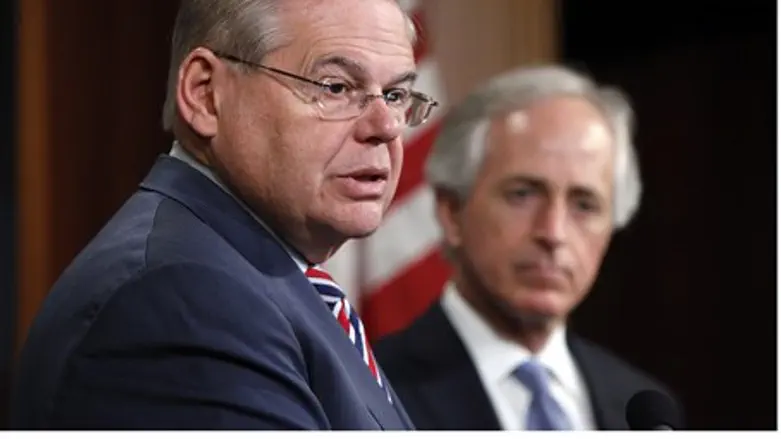 Senators Robert Menendez, Bob Corker
Reuters
In a bipartisan move Senators Mark Kirk (R-IL) and Robert Menendez (D-NJ) on Thursday revived legislation that has long been stalled by US President Barack Obama's administration, and which seeks to impose and extend sanctions on Iran for over ten more years.
Iran has been demanding that sanctions against it be lifted immediately with the signing of a nuclear deal ahead of a June 30 deadline for talks, but the Washington Free Beacon reports Friday that the Obama administration has been fighting Congress's attempts to impose new sanctions and is even lobbying legislators to block the moves.
In their effort Thursday, Mendendez and Kirk submitted a bill to renew the Iran Sanctions Act of 1996 which is due to expire next year. The move would harm Iran's ability to fund its nuclear program as well as global terrorism through groups such as Hezbollah and Hamas.
It would allow stringent sanctions to "snap back" the minute Iran is caught breaching any nuclear agreement, and would require the Obama administration to file reports to Congress revealing whether the billions of dollars in sanctions relief already given to Iran have been used for terrorism, the country's nuclear and missile programs, human rights violations, or went to the pockets of senior Iranian officials.
"Congress passed the Iran Sanctions Act of 1996 to drain Iran's financial support for Hezbollah, Hamas, and terrorist threats to the United States and Israel and block funds for building nuclear weapons and ballistic missiles," Kirk told the Washington Free Beacon.
The congressman noted that "Director of National Intelligence James R. Clapper recently told senators that 'Iran remains the foremost state sponsor of terrorism,' so if the White House is serious about maintaining terrorism sanctions against Iran no matter what, it must support our bipartisan effort to renew this expiring law."
Menendez spoke to the paper as well, saying that if a deal is reached "it is critical that should Iran violate the terms of an agreement, severe penalties will follow and a forceful snapback of sanctions will occur. For me, the trend lines of the Iran talks are deeply worrying, our red lines have turned into green lights, leaving snapback as one of the few tools available to demand Iranian compliance with an agreement."
"Absent renewal we would be unilaterally lifting sanctions on Iran and hence unilaterally disarming," he warned. "It stands to reason that if negotiators are serious about snapback, then they should support the immediate extension of the Iran Sanctions Act to ensure there is no question for Iran about the consequences of non-compliance."
Iran has rejected conditions allowing inspectors into covert nuclear facilities, threatened to use advanced centrifuges as soon as a deal is reached meaning it could obtain a nuclear arsenal in weeks, and likewise said any deal must last less than ten years.