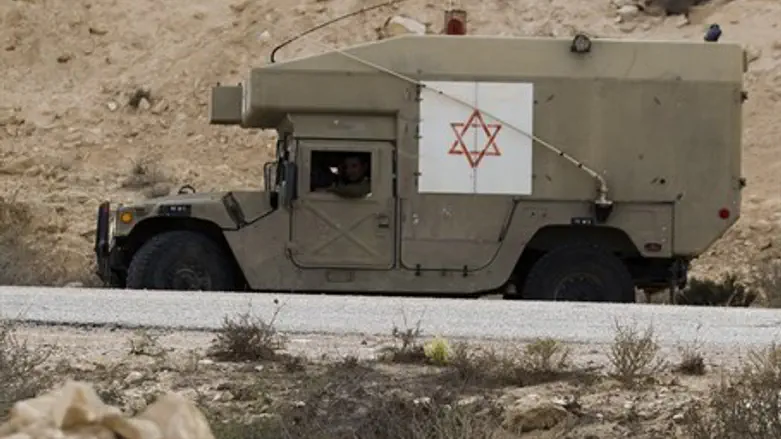 IDF ambulance (file)
Reuters
Monday night's attack on an IDF ambulance by a mob of Israeli Druze is a strike against the IDF, reserve Col. Kobi Marom, a resident of the Neve Ativ village and research fellow at the Institute for Counter-Terrorism at the Interdisciplinary Center in Herzliya, stated to Arutz Sheva on Thursday. 
"This was a strike against both Israeli troops and the wounded [Syrian refugees], who were helpless and vulnerable - as well as to Israeli sovereignty," Marom fired. "It is unacceptable and it also seriously undermines the image of the Druze community."
Marom added that Israeli Druze concerns that Israel is supporting Syrian rebels, and therein is being complicit in attacks against Syrian Druze, are unfounded.
"They spoke of a massacre (of the Druze in Syria) and other things that are not happening there," he said. "I understand the Druze community's concerns, but they must understand that Israel is also obligated to its own well-being." 
"They have to understand that the IDF does not intervene in the war in Syria, but Israel has not harmed Druze interests, and has also made diplomatic steps behind the scenes." 
Dozens of Israeli Druze surrounded an IDF ambulance carrying two wounded Syrians to Ziv Hospital in Tzfat via Majdal Shams on the Golan Heights on Monday, throwing rocks and mobbing the ambulance in an ambush that was apparently premeditated. One of the two Syrians died due to the attack.
On Wednesday, ten Israeli Druze were arrested for their involvement in the attack, which has been widely described as a "lynching." 
Several of those arrested are suspected of having attacked the ambulance near Majdal Shams in the Golan, while others are thought to have attacked another ambulance in a previous incident near Hurfesh.
On Tuesday it was revealed that an IDF soldier may have passed information on to Druze villagers and thereby set off the attack.