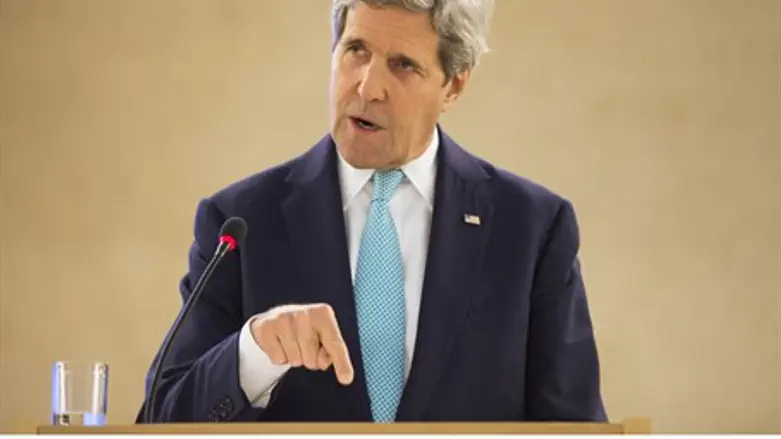 John Kerry
Reuters
US Secretary of State John Kerry held some $1 million Noble Energy stock in 2013, the Open Secrets freedom of information website has revealed.
It comes as Israel's security cabinet debates a compromise deal over the country's natural gas monopoly, which has been the focus of fierce controversy.
In May, the head of Israel's Antitrust Authority resigned in protest over Prime Minister Binyamin Netanyahu's refusal to break up the monopoly - held by Noble Energy and Delek - over Israel's Tamar and Leviathan offshore fields. 
David Gilo expressed his opposition to the dominant position of US giant Noble Energy and its Israeli partner Delek to exploit gas from the Leviathan and Tamar offshore gas fields in his letter of resignation to Economy Minister Aryeh Deri.
According to Open Secrets, Kerry's asset declarations show he held between $501,002-$1,015,000 in Noble Energy shares, as well as stocks in 23 other energy firms.
He reportedly sold some of the shares in 2015.
The revelations are controversial given Kerry's deep involvement in the issue on a political level - underlining a possible conflict of interest.
Back in December of last year Kerry intervened after David Gilo acted to end the monopoly, reportedly convincing the prime minister to promote Noble Energy's role in energy supply deals with Jordan and Egypt.
"It is important for all countries to have a strong investment climate, including a consistent and predictable regulatory framework," Kerry reportedly told the PM at the time.
Then-State Department spokesman Jeff Rathke issued a statement at the time, saying: "We continue to engage and we support all parties to move forward with the natural gas deal signed between Noble Energy and entities in Jordan and Egypt… We strongly believe that these deals would enhance energy security in the region."
However no one at the State Department saw fit to disclose Kerry's personal interest in the matter.
The compromise deal currently under discussion is believed to include a sort of amnesty for Noble and Delek, essentially letting them off the hook for establishing a natural gas cartel, while implementing some measures to curb that monopoly.