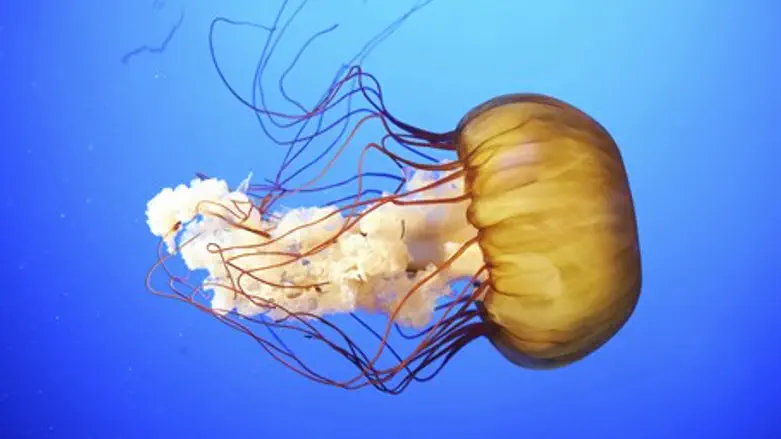 Jellyfish
Thinkstock
If it's summer in Israel, that means it's jellyfish season – and at risk from the gelatinous sea creatures are not just individuals with sensitive skin, but Israel's electrical system.
On Wednesday, Israel Electric Company workers successfully repelled the first of many expected "invasions" of its Rotenberg electrical generation plant near Ashkelon, with workers literally shoveling out thousands of the creatures before they could get into the turbines that create power.
In recent years, jellyfish have become a major problem for Israel, with large blooms drifting slowly through the warm waters of the Mediterranean until they hit the Israeli coastline, usually in July, when they basically make the waters off the coast unswimmable, due to the high levels of the venom they release. Although the venom is generally not lethal, it is extremely annoying and can be painful for people with sensitive skin. By August, the jellyfish have usually cleared out.
While swimmers can choose to stay out of the water, the IEC needs sea water in order to run the turbines that convert burned coal or natural gas into electrical power – and foreign objects such as jellyfish could seriously damage the system. On Wednesday, the IEC admitted TV crews and reporters to show off the extent of the problem, and how they deal with it – often with shovels, as well as with filters and other techniques.
So far this year, the IEC said, there have been no power outages due to jellyfish invasions – and workers said they were determined to prevent any in the future.
credit: יוסי וייס, חברת החשמל
credit: יוסי וייס, חברת החשמל
credit: יוסי וייס, חברת החשמל
credit: יוסי וייס, חברת החשמל